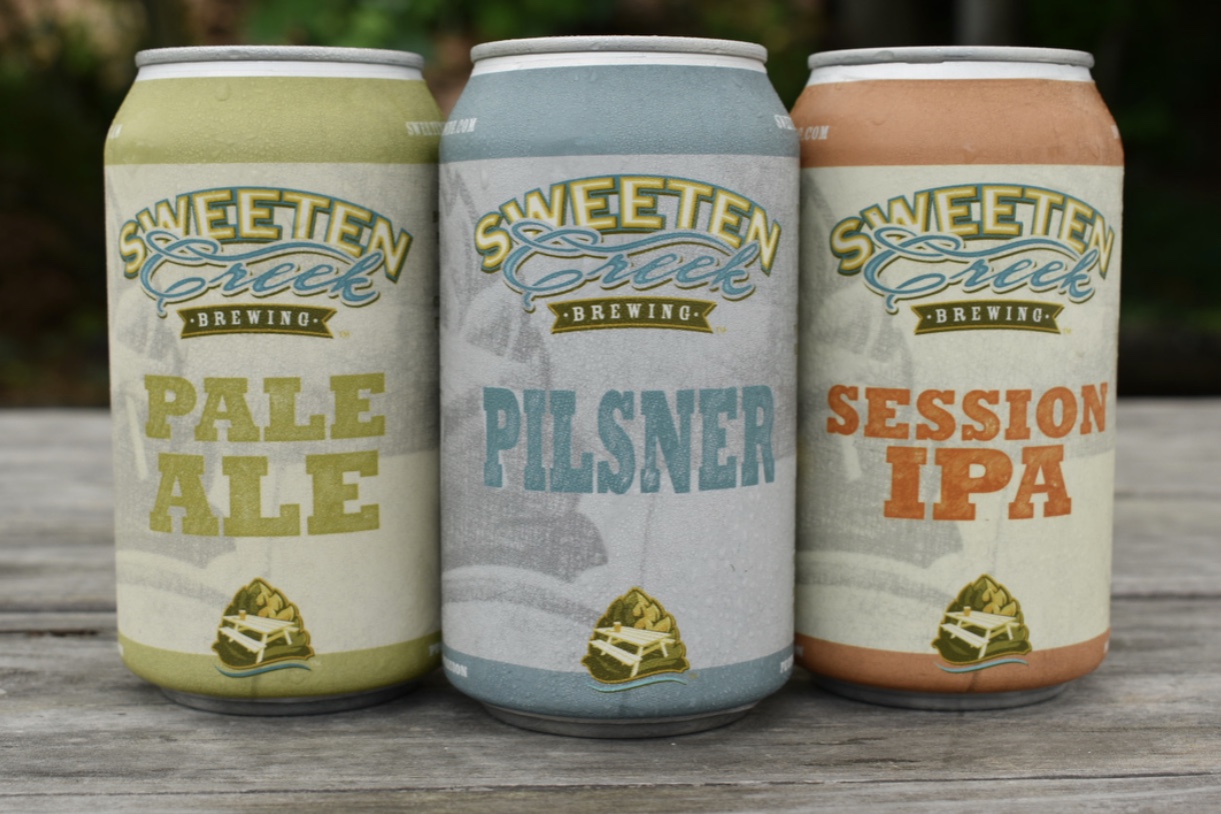 ASHEVILLE, N.C. — Young and thriving Asheville-based craft brewery, Sweeten Creek Brewing, is gearing up for a big summer with the launch of their first 12-oz. cans and increased North Carolina distribution through a new partnership with Empire Distributors.
The two-year old brewery saw a substantial increase in demand following a brewhouse expansion in 2017, which opened the door for a relationship with the well-established distributor. The partnership will increase local distribution, leading to an expanded footprint in Western North Carolina by the end of the year.
"We are very excited about our partnership with Empire Distributors and the relationship we are building with their team," said Sweeten Creek co-owner, Erica Justice. "We feel that bringing a distributor into our brewery family is one of the most important decisions a young company can make for the future of the brand. We feel very confident that we have chosen the best partner possible to help us grow and reach new customers."
To add to the excitement, Sweeten Creek's first canned beers will roll down the line and into retail locations across Western North Carolina. The lineup includes three flagship styles and four seasonals. The first to be released will be the brewery's top seller, Sweeten Creek Pilsner, followed by Session IPA and Pale Ale.
"This is a big step and I think it will open up a lot of opportunity for us," said Sweeten Creek co-owner and head brewer, Joey Justice. "With last year's brewhouse expansion and recent market growth in part to Empire, the timing is perfect. Our approach to brewing has always focused on clean, quality beers and I think our can design really reflects that. We chose styles we want to be drinking by the creek, at a picnic table, with friends and family."
Sweeten Creek Pilsner 6-packs are currently available for purchase on-site with Session IPA and Pale Ale 6-packs to be released in the next few weeks. All flagship styles will hit store shelves by early summer.
About Sweeten Creek Brewing
Established in 2015 by husband and wife—craft brew masters—Joey and Erica Justice, Sweeten Creek Brewing is dedicated to brewing consistent, quality true-to-style beers. With a passion for craft beer, food, and community, Sweeten Creek Brewing creates a destination brewery and deli with a relaxed, comfortable, and family-friendly atmosphere. Open Tuesday through Sunday 11:30-9:00 pm (Sunday 11:30-7:30 pm). For more information, visit sweetencreekbrewing.com or follow Sweeten Creek on Facebook and Instagram.
About Empire Distributors
Empire Distributors is a wholesale beverage distributor home to over 1,500 teammates across three states in the Southeast. Representing 1,000 + brands from around the world, their mission is simply to be the very best at building brands and developing people.