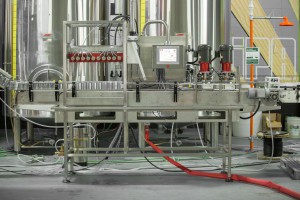 Calgary, Alberta, Canada – Cask Brewing Systems — the company that invented micro-canning equipment for craft brewers — is offering a new canning line that doubles the speed of its fastest machine.
Cask's ACS X2 (Automatic Canning System X2) has ten CO2 pre-purge heads, ten fill heads, and two can seamers. That is twice the pre-purge, filling and seaming features of Cask's ACS machine, which has been a hit with micro-canners since its debut in 2005.
The new machine fills and seams 75+ cans/minute and 190+ cases/hour and requires just two operators.
"Our customers around the world," says Cask founder Peter Love, "are experiencing huge demand for their canned craft beer and it's creating production pressures for them. Many of them are faced with outgrowing our machines and having to make a four- or five-fold leap in price — and a giant leap in size — to buy the next level of canning gear."
"We created this faster, more-advanced machine," Love says, "to help our customers keep up with their growth in a fashion that saves them significant money and space. Our focus has always been smaller breweries, the ACS X2 allows us to greatly expand that focus."
The machine continues Cask's legendary track record of big performance in a small space, thanks to its 2' by 11' footprint of just 22 square feet. The machine also fills cans with an extremely low level of dissolved oxygen (15-20 parts per billion) that protects beer flavor and extends shelf life.
The ACS X2 features a revamped seamer system and an improved operator interface, and can be adapted to various can sizes in just minutes. Other high-performance options for the ACS X2 include an improved automatic pallet dispenser and a can pre-rinse feature.
See video of the ACS X2 in action at Cask's newly revamped Web site: www.cask.com .
"All of our machines," Love says, "give small brewers an affordable, small-scale way to package their beer in the best package there is for beer. They allow craft brewers to easily adopt the super-portable, infinitely recyclable can and its ultimate protection from light and oxygen. Those benefits are hard for brewers to resist."
Canned craft beer is hard for consumers to resist. The latest information from the Brewers Association shows that 2014 sales of US canned sixpacks were up 97% compared to 14% growth of bottles.
"Canned craft beer is the hottest craft beer package in the US," Love says, "and it's now taking off in the other nations where we have customers."
Cask has provided small-scale brewers with inventive, efficient and affordable brewing and packaging solutions since 1983. In 1999 Cask invented the micro-canning concept with a tabletop machine that seamed one can at a time.
In 2002 Cask made its first sale to a US micro-brewer, Oskar Blues Brewery & Pub in Lyons, Colorado. The first US craft brewer to brew and can its own beer, the tiny brewpub became a fast-growing, cans-only success that grew from 700 barrels/year to nearly 200,000 barrels in 2015.
Cask's micro-canning effort has dramatically changed the packaging of craft beer around the world. Thanks to Cask and its customers, the once-maligned aluminum can has been transformed into the premium craft beer package of choice for its freshness-keeping, fuel-saving, portability and environmental benefits.
Today Cask's affordable and small-footprint manual, semi-automated and automated canning systems are used by over 600 small breweries, wineries, cider makers and drinks manufacturers in over 34 nations around the globe.