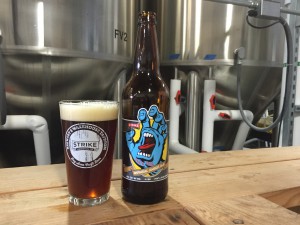 San Jose, CA – Strike Brewing Company is launching Screaming Hand Imperial Amber Ale this Friday, March 25th at their warehouse taproom in south San Jose.
Brewmaster and co-founder Drew Ehrlich stated that, "Amber Ales are emerging in popularity but unlike with a standard Amber Ale, we've ratcheted up the intensity by using Amarillo and Centennial hops to add a tropical and resinous flavor with floral aroma and citrus aromas."
Strike co-founder and CEO, Jenny Lewis says "We're very excited to introduce our latest collaboration with iconic local skateboarding company Santa Cruz Skateboards," adding, "It's a great follow up to our success with the Santa Cruz Classic Dot Blonde Ale."
Initially available only at their San Jose warehouse taproom, the limited production Screaming Hand Imperial Amber Ale will become available across California within a few weeks.
About Strike Brewing Company:
Strike Brewing Company was founded in 2014 and was born out of the desire to make great craft beer. With their standard lineup of ales, seasonal rotation of holiday specialties, and experimental Bullpen Series, Strike Brewing Co. is helping make San Jose a craft beer destination.
About Santa Cruz Skateboards:
Santa Cruz Skateboards, located in Santa Cruz California, was established in 1973 by then owners, Richard Novak, Doug Haut and Jay Shuirman who founded NHS Inc. Santa Cruz Skateboards has long been revered as one of the original skateboard companies that has not only survived over the years but contributed to the innovation and modernization of skateboards and skateboarding. In 2013 NHS celebrated its 40th anniversary.