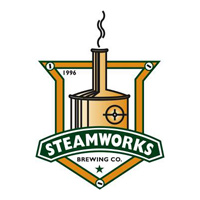 DURANGO, Colo. — Steamworks Brewing Co. will tap its special monthly "firkin" in the midst of Durango's winter festival Snowdown at 3 p.m. on Friday, Feb. 1, 2013. The February firkin has been christened "Oaked and Smoked."
The base of the firkin is Steamworks' McDammit's Scottish Ale, a Wee Heavy Scotch Ale that features pronounced malty caramel and roasted malt flavors. McDammit's is one of Steamworks' seasonal beers and the brewers altered the recipe this year utilizing an English ale yeast and more specialty malts.
"Then for the firkin we added American oak spirals soaked in a 12-year-old single malt Scotch," said Steamworks Brew Master and Certified Cicerone Ken Martin, "Plus some 'peated' or smoked malted barley."
According to Martin, smoked malt is traditional in some Scottish ales, and with the Scotch soaked spirals, the beer should resemble a barrel-aged, smoked strong Scottish ale.
"Thus our name, 'Oaked and Smoked,'" said Brewer and Certified Cicerone Spencer Roper. "It should be deep and full-bodied, and will have a higher ABV (alcohol by volume) than most of our firkins."
A firkin is an old English unit of volume, typically a wooden cask equal to approximately one-quarter of a regular barrel, or nine gallons. They are gravity-poured and served at approximately 55 degrees.
Unlike most draft beers, firkin beer is unpasteurized, unfiltered and naturally conditioned or carbonated, it its cask. According to Martin, the yeast transforms the sugar into alcohol within the cask, and carbonation results from the trapped carbon dioxide occurring as a byproduct.
"Firkins, once tapped, are meant to be enjoyed right away," said Martin, noting that given the popularity of the specialty firkin beers, the contents of the casks are quickly consumed.
Steamworks initiated its Firkin Fridays to introduce unusual, specialty craft beers to patrons, and augment its regular, award-winning offerings.
About Steamworks Brewing Co.
Steamworks Brewing Co., open 11 a.m. to closing seven days a week, is located at 801 E. Second. Ave., Durango (970.259.9200). For further information, visit www.steamworksbrewing.com.