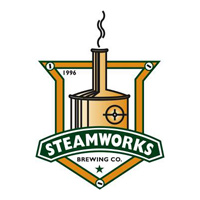 DURANGO,CO – Steamworks Brewing Co.'s Firkin Friday for November is going to the dogs — literally — as the monthly event celebrating unique craft brews will also benefit Annie's Orphans, the non-profit sanctuary for abandoned, neglected and abused dogs. Firkin Friday is set for Friday, Nov. 2, 2012, with the cask of "Mississippi Leg Hound" to be tapped at 3 p.m.
The Annie's Orphans Happy Hour fundraiser will run from 3 to 6 p.m., with shelter volunteers on hand to accept donations and provide information about the dogs and the facility. Steamworks patrons can donate as part of the weekly keg drawing, plus, 10 percent of proceeds from beer sales will go to Annie's Orphans.
"Steamworks has always been a big supporter of Annie's Orphans, so we're happy to host this fundraiser as we head into winter — the most challenging time for the shelter," said Kris Oyler, Steamworks co-founder. "We want to support the pups that Anna and Bill Anderson and their team care for at Annie's Orphans. It's a special place, and Steamworks is very happy to help."
While Annie's Orphans had its genesis as a home for retired sled dogs in 1985, the scope quickly grew to include all breeds. The goal is to help them find "their families;" but if they aren't so fortunate, they live out their lives at Annie's Orphans, certified as a non-profit, private shelter.
Annie's Orphans is located on the Anderson's property in the Sunnyside area of La Plata County. Dogs in need enjoy open air pens, as well as shade and shelter from harsh weather. Volunteers walk and play with the dogs, help in socializing and training when needed, and maintain the facility, which can house some 70-80 canines.
"But dog food and medical care are expensive, especially when you're talking about that many dogs," said Oyler. "We hope a lot of people will come out, enjoy Firkin Friday and have a Steamworks brew for Annie's Orphans. By raising funds, we truly can help change the world for one dog at a time."
The special firkin, the "Mississippi Leg Hound" to be available during the fundraiser is a Belgian chocolate with dark sweet cherries and black currants.
"The base beer has a fruity ester flavor and aroma typical of Belgian styles," said Steamworks Brew Master Ken Martin. "Plus a complex malt profile that is dominated by chocolate, though it also includes caramel and notes of fresh biscuits or bread."
The dark sweet cherries and black currants promise to add a tartness and slight acidity to the blend. Steamworks' Brewdogs see it as Ale Diablo's counterpart; both Belgians but instead of a lighter beer with light fruit, it's a dark beer with dark fruit.
"The Ale Diablo is noted for its 9.5 ABV," added Assistant Brewer Spencer Roper, referencing the high Alcohol by Volume. "All things considered, this Mississippi Leg Hound should be a dog with a substantial bite."
A firkin is an old English unit of volume, typically a wooden cask equal to approximately one-quarter of a regular barrel, or nine gallons. Firkin beer is unpasteurized, unfiltered and naturally carbonated, or conditioned, it its cask. It is served at approximately 55 degrees – cool but not cold, and because it contains no preservatives, it's designed to be consumed after tapping.
Steamworks initiated its Firkin Fridays to introduce unusual, specialty craft beers to patrons, and augment its regular, award-winning offerings.
Steamworks Brewing Co., open 11 a.m. to closing seven days a week, is located at 801 E. Second. Ave., Durango (970.259.9200). For further information, visit www.steamworksbrewing.com.
Learn more about Annie's Orphans at www.anniesk9orphans.org.