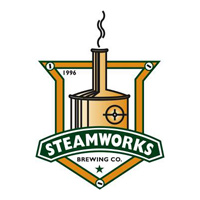 DURANGO, Colo. — In response to growth at Peak Brewing LLC, dba Steamworks Brewing Co., the company has announced three promotions. Steve Kammerer has been named General Manager, over-seeing operations of the Durango-based brewpub, with Ryder Okumura promoted to Front-of-House Manager and Gabe Harrington now serving as Kitchen Manager.
"We're really very fortunate to have three experienced and very conscientious employees available to step up to these managerial positions," said Kris Oyler, Steamworks co-founder. "Steamworks' management philosophy has always been about empowering our employees and furthering Steamworks' excellence."
Kammerer hails originally from Wisconsin, where he graduated from the University of Wisconsin. His background includes 10 years with Walt Disney World in Florida before coming to Durango by way of Albuquerque.
"I was in Albuquerque for five years and I really fell in love with Durango. On my visits here I'd always come to Steamworks," said Kammerer who worked at Hamilton Chop House, Durango Mountain Resort and Mesa Verde before securing a position at Steamworks in 2006. "I've worked in the food and beverage industry for more than 20 years. Steamworks is the best employer I've had for many reasons, including the food and beer. By keeping it a great place to work, it will remain a great place to visit."
Okumura, an avid mountain biker, came to Durango from Illinois in 1997 to study at Fort Lewis College. He has worked in a managerial capacity for a number of local restaurants, including The Red Snapper, Seasons, and Guido's. He joined the Steam Team in March 2012 serving in a variety of front-of-house capacities.
"Of all the restaurants I've worked for, Steamworks is the most fun," says Okumura who also handles marketing for the North American Trials Series, a bike trails competition, which is hosting a trials event in Durango in July. "This is a busy operation, and I appreciate all the hustle and bustle and having an opportunity to meet and socialize with hundreds of people."
Harrington grew up in Littleton, Colo. and graduated from Fort Lewis College with business and finance degrees while also enjoying river sports, fishing and mountain biking. During his college years he worked at Hillcrest Golf Club and several Downtown restaurants including Olde Tymer's and Lady Falconburgh's, eventually securing a position in Steamworks' kitchen in 2006.
"So I learned kitchen management from the ground up under Chef Sean (Clark)," said Harrington who now is responsible for overall management of the kitchen including ordering and scheduling. "It's more challenging, but that's a good thing."