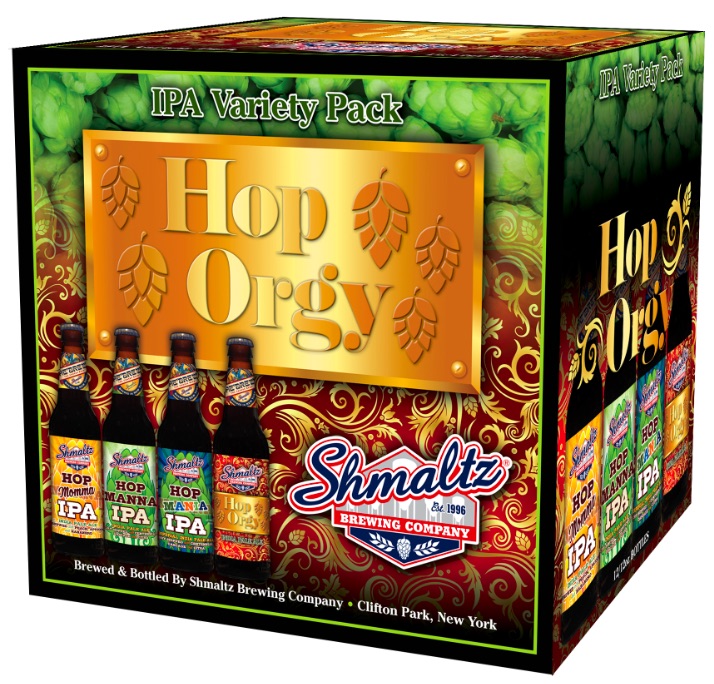 Clifton Park, NY — We're still not really sure how it all went down. Everything was kind of a blur. Someone called someone's package out and demanded some immediate action. Tentative whispers and coy glances turned into giggles and playful suggestions. Suddenly, Shmaltz Brewing Company realized it was on — and everyone on staff jumped in to make it happen. The sweet rush of creation with a burst of hands crafting a symphony of elements. Shmaltz welcomes you to experience Hop Orgy, a fresh new variety 12-pack filled with Hop Manna IPA, Hop Momma IPA, Hop Mania Imperial IPA, and the brand newHop Orgy IPA.
Delights for all the senses — enticing aromas, flavors to feed thirsty mouths, and lush images to tantalize the eyes. A tactile and imaginative feast! After the commotion was all over, there may have been some awkward flushed looks but never tears or accusations. Everyone played their role and everyone had a great time doing it. No regrets — just the mutual feeling of group satisfaction in achieving the pleasure of another scrumptious Shmaltz Brewing creation.
Joining the brewery's beloved every day IPA and Gold medal winner at the World Beer Championships, Hop MANNA, the Hop Orgy variety pack also includes the irresistible Gold medal winner (World Beer Championships) Hop Momma IPA, the Silver medal winner (World Beer Championships) Hop Mania Imperial IPA, and the namesake Hop Orgy IPA. In stores nationwide starting on January 19, Hop Orgy is every hophead's dream with its indisputable indulgence of hops.
Twelve beers — four distinct IPAs — no one gets left out.
The Hop Orgy variety pack beers are:
Hop Orgy (6% ABV): A copper/gold light-bodied IPA, bursting with luscious, aromatic fruit notes of the tropics and citrus notes accented by pine and cedar characters.
Hop Manna (65 IBUs, 6.8% ABV): Shmaltz's flagship, World Beer Championship Gold Medal winning IPA. Dry-hopped with Centennial, Cascade and Citra for a fruity aroma with lively floral and citrus flavors. Shmaltz's first-ever single IPA, Hop MANNA offers session after session of hop nourishment from the Shmaltz Tribe to yours. Hop MANNA is now available in new 4-packs, in addition to 22-ounce bottles, draft, and nestled inside the Hop Orgy variety pack.
Hop Momma (5.8% ABV): A session-ish IPA brewed with peach, apricot and Habanero pepper. Fruity hops accentuate the added flavors, making this Momma fresh and juicy with a subtle pepper kick.
Hop Mania Imperial IPA (7.8% ABV): An Imperial IPA that's dry-hopped with more Centennial, Cascade and Citra hops. Adding manic amounts of hops and playing up the malts throughout the brewing process gives Hop Mania Imperial IPA a complex character and heady aroma. While the 7.8% ABV gives this beer strength, the mouthfeel is deceptively smooth. Hopheads rejoice — Manna has gone Mania!
"We took the perfect IPA recipe for Hop Manna and really wanted to experiment with the same base hops and malts to create three beers with new characters and a way to reinvent the experience for IPA drinkers," says Richie Saunders, Head Brewer at Shmaltz Brewing. "I love the versatility of the hops in Hop Manna. Adding Amarillo and Citra later in the boil really boosts the peach and apricot flavors for Hop Momma IPA. Increasing the Centennial in the dry-hop for Hop Mania makes that beer more of an old style IPA. It's super bright and tasty."
Hop Orgy variety pack rolls out this month to all 35 states within Shmaltz's distribution network. To find a wholesaler near you, please visit http://shmaltzbrewing.com/distributors
About Shmaltz Brewing Company
Founder and owner Jeremy Cowan established Shmaltz Brewing in San Francisco in 1996. The first 100 cases of He'brew Beer were hand-bottled and delivered throughout the Bay Area from the back of his Grandmother's Volvo. Shmaltz Brewing now sells He'brew Beer across 35 states, through 40 wholesalers and in nearly 5,000 retailers.
After 17 years of being an outspoken cheerleader for contract brewing, Cowan and staff opened their own New York State production brewery in 2013 in Clifton Park, 10 minutes north of Albany. Shmaltz's home boasts a 50-barrel brewhouse with 30,000 barrels of annual capacity and packages a diverse and tasty variety of core and seasonal favorites in 12 and 22-ounce bottles and kegs. The Shmaltz Tasting Room is open five days a week (Wed-Sun) and offers tours, barrel-aged previews, beer-to-go, and special releases.
RateBeer.com ranked Shmaltz as one of the "Top 100 Brewers in the World" in 2013, and the brewery brought home 10 gold and 6 silver medals from the World Beer Championships in the past several years.