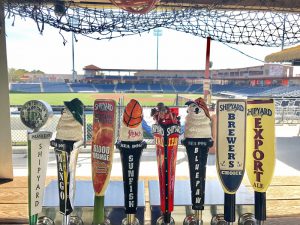 Clearwater, FL – Portland, Maine's Shipyard Brewing Company has placed its Florida-brewed beers in local baseball stadiums that host major-league spring baseball games and minor-league summer games.
Beers from the independent and family owned Shipyard and its sister brewery, Sea Dog Brewing (Clearwater FL), are now in two stadiums in Fort Myers, Florida. JetBlue Park is the summer home of the Boston Red Sox, while Century Link Park is the spring home of the Minnesota Twins and the summer home of the Fort Myers Miracle minor-league team.
Shipyard and Sea Dog beers are also at Dunedin, Florida's Florida Auto Exchange Stadium (spring-training home of the Toronto Blue Jays and summer home of the Dunedin Blue Jays) and Clearwater, Florida's Spectrum Field, the springtime home of the Philadelphia Phillies and summer home of the Clearwater Threshers. This stadium is 3 miles away from the Shipyard/Sea Dog brewery.
Collectively these stadiums will feature about 20 taps of Shipyard and Sea Dog beers and deliver benefits to craft beer lovers and the beverage programs at the stadiums.
"These stadiums are realizing that craft beer sells," says Dan Bolduc, Shipyard's Florida West Coast sales manager, who placed the beers in the stadiums. "The stadium beverage buyers know that people at the games are willing to spend an extra dollar or two for a quality beer from an independent craft brewer."
Brad Dudash, Spectrum Field's beverage director, says the Shipyard/Sea Dog beers are a plus on two levels.
"Our fans," he says, "like local products and these beers are made right down the street. They really add to the Florida baseball stadium experience." The beers sell for $1.50 more per serving than mass-market domestic beers. "They definitely help our bottom line," he says.
"It's amazing how many people travel here to see these games," Bolduc notes, "and some of them stay for weeks. Many of these fans drink our beer back home so they are thrilled to find our beers here in the stadium."
Bolduc says these stadiums also carry a few "hyper local" beers that deliver additional benefits for attendees.
"People get to try the beer they love back home," he says, "and they also discover some Florida beers they can't get up north."
Some of these stadiums also host non-baseball events, so Shipyard and Sea Dog will get exposure to more than just baseball fans through this spring and summer
"These stadiums," Bolduc says, "reinforce our connection with out-of- town fans who come to Florida for the games. It will translate to big spring and summer sales for our local distributor and retailers, and it also helps year-round sales in our markets across the country."
Better still, says Shipyard founder Fred Forsley, "These stadium placements help in some big-picture ways. We're putting craft beer in places that reach a more mainstream segment of American beer lovers. That's good for building our sales and craft beer sales in general, and those are two important goals of ours."
Shipyard opened its Sea Dog Clearwater, FL brewery in 2014 at the intersection of U.S. 19 and Enterprise Road. The brewery produces Shipyard and Sea Dog draft beer exclusively for the Florida market.
Shipyard Brewing Company is a family owned independent brewery rooted in tradition and innovation.
Established in 1994, Shipyard is located on the historic waterfront in Portland, Maine and served as an economic and cultural catalyst for the rebirth of its neighborhood and the development of New England craft brewing.
Shipyard produced 116,000 barrels of beer in 2016. The brewery produces over 25 varieties of packaged beer and has allied brewpubs, breweries and taprooms in New England and Florida. Learn more at www.shipyard.com.