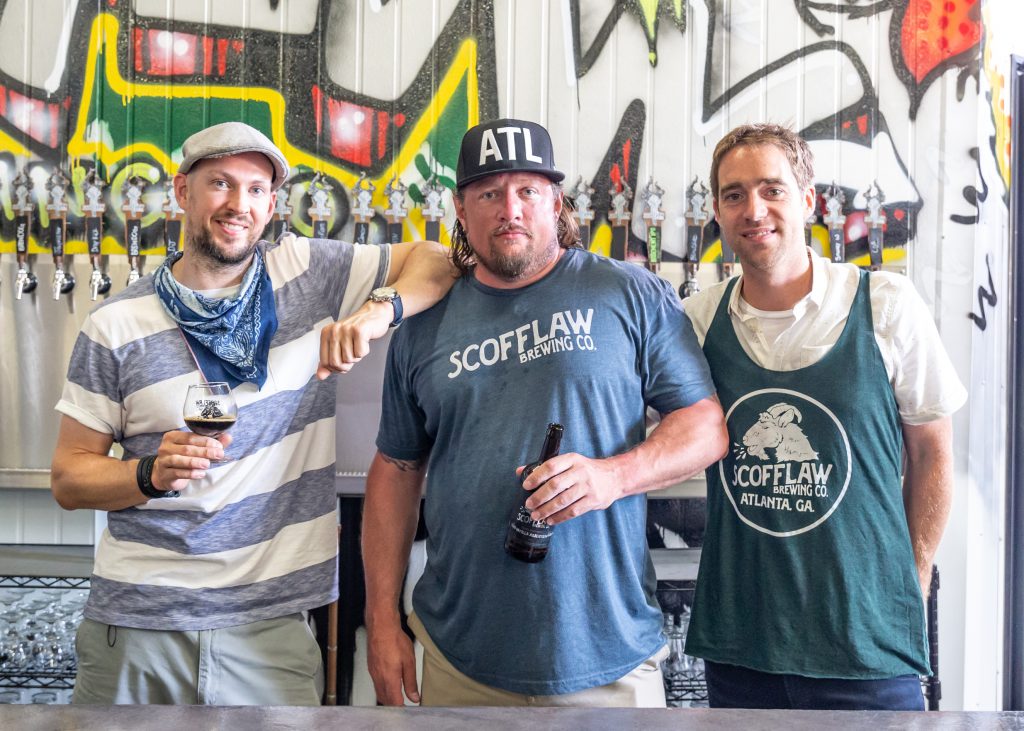 A month after an unauthorized press release cost Scofflaw Brewing an exporting opportunity with BrewDog in the United Kingdom, the Atlanta-based craft brewery is taking steps to repair its reputation abroad.
Scofflaw recently hired Scotland-based Media House International, a PR firm that specializes in crisis management and public affairs to help rehab its image abroad.
Speaking to Brewbound from the U.K. on Tuesday, Scofflaw co-founder Matt Shirah said he was meeting with various "beer people" in an attempt to secure a new export deal.
"I'm just talking with people to see if there's someway to repair or replace the arrangement that we had," he said. "But I haven't solidified anything."
In early September, Scofflaw announced it was partnering with BrewDog for a series of events at the Scottish beer company's 36 U.K. pubs.
However, BrewDog quickly terminated the deal after Frank, the London-based boutique PR firm retained by Scofflaw, issued an unauthorized press release to "thousands of journalists" encouraging supporters of President Donald Trump to show up at BrewDog's pubs for a free pint of Scofflaw beer.
A day later, Frank tweeted an apology to "Scofflaw, BrewDog and anyone that may have been offended by these actions." The firm blamed an "individual employee," who was eventually suspended, for sending the press release without approval.
Shirah told Brewbound that he was blindsided by the September press release.
"Who in the world coming into this environment would try to position yourself in any political way?" he said. "It's just dumb."
According to Shirah, Scofflaw spent "a lot of money" planning its foray into the U.K., as part of a process that included paying retainer fees to Frank, as well as another media firm. The company also shipped beer ahead of its launch events that never ended up getting sold.
"It took us months of work and a lot money, and it got wiped out with one fucking message," he said.
Although Shirah believes Scofflaw's brand suffered more damage in the U.K. due to a prevailing anti-Trump sentiment abroad, he said Scofflaw also lost a few draft accounts in the U.S., which he declined to name.
"I'm not really worried about it because I didn't do anything," he said. "But the PR firm did, and they need to make it right."
Scofflaw is now considering legal action against Frank.
"The lawyers are handling it now," he said, declining further comment.
Shirah told Brewbound that he's still interested in exporting beer to the U.K. as competition within the craft beer sector in the U.S. intensifies, which he said makes it more difficult to expand.
Even though BrewDog has cut ties with Scofflaw in the U.K., the Scottish craft beer company, which brews and sells beer in the U.S. via its Columbus, Ohio-based brewery, has maintained a previously negotiated contract brewing arrangement with the Atlanta beer company.
"As far as I know, our contract brewing situation is fine," Shirah told Brewbound. "We still need beer."
Indeed, sales of Scofflaw's offerings are up "significantly" from last year, Shirah said. In 2017, Scofflaw produced 9,075 barrels of beer, according to the Brewers Association. However, Shirah declined to offer an estimate of where Scofflaw will finish the year.
Shirah added that the company is currently in the midst of expanding capacity at its facility in Atlanta, through the addition of a new brewing system that will allow the company to scale production to 30,000 barrels annually. That system won't be operational until 2019, however, and the company plans to continue making beer under contract with BrewDog in the interim.
Additionally, Shirah revealed that Scofflaw plans to open a second Atlanta location, which he said will serve as research-and-development brewing facility with a tasting room. The new location is slated to open by early 2020.
"We're really focused on getting the brand name out there in Georgia," he said. "We're a small company, and in my mind, no one really knows who we are yet in the beer world."