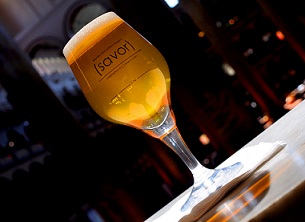 WASHINGTON — Craft beer fans converged on the nation's capital this past weekend for SAVOR, an American Craft Beer and Food Pairing Experience.
Beer lovers enjoyed 72 breweries pouring over 140 beers and an assortment of food pairings to accompany each unique beer.
Among many of the unique offerings available to attendees was a collaboration brew between Dogfish Head and Boston Beer Co — SAVOR Flowers.
"We each had our unique ideas and contributions in terms of ingredients and novel interesting brewing techniques to this beer," said Koch. "It really was a genuine collaboration where we all brought something to the party."
Unique might be an understatement.
With most collaboration's, something creative is usually tweaked in the brewing process. Most brewers play with yeast, hops and malts and don't do anything to the water. For Calagione, this was the exact piece of the brewing puzzle he wanted to explore.
Through an age-old distillation process, Calagione was able to create a rosewater base to be used as the main liquid in the brew.
In addition to the rosewater, a mix of dried lavender, hibiscus, jasmine and rosebuds were mixed in during the brewing process to further enhance the beer's botanical qualities.
Not to be outdone, Koch offered up the use of "Barrel One," the original barrel used to age the first batch of Triple Bock in 1993.
"Sam and I had a great time gathering these ingredients, and I am excited to collaborate with such an innovative brewer on this beer for SAVOR," says Jim. "Sam's originality and imagination are endless–he came up with the creative idea of distilling rosewater for this brew. We share the same intense passion for pushing the conventional definition of what beer can be and we put that same passion into our beers."
Though a limited quantity of Flowers was produced, all SAVOR attendees were able to sample the beer at the event and take home a commemorative 750ml bottle.
Brewbound.com was able to catch up with both Koch and Calagione to discuss their collaborations as well as other ventures outside of the day-to-day beer production.