After nearly 13 years at the helm of Rogue Ales & Spirits, owner and president Brett Joyce will depart the company at the end of the year.
Current general manager Dharma Tamm, who joined the Oregon-headquartered organization in January 2017, will supplant Joyce.
Rogue's nearly 300 nationwide employees were informed of the change yesterday.
Speaking to Brewbound, the 45-year-old Joyce, who will maintain an ownership stake and remain on the company's board, cited personal reasons for the decision to step away from the day-to-day operations.
"I have always trusted and relied on my gut instinct, and it is just time," he said, noting that he's been "thinking more seriously" about a transition for the last six-to-12 months.
"My personal desire to step back, coupled with Dharma taking over more leadership over the last two years – this was the perfect time for me to step out and let someone else come in," he added.
Joyce also stressed that he wouldn't be "lingering around the office" or "torpedoing Dharma's leadership." Instead, he's letting Tamm call the shots as of January 1, 2019.
"There's stepping back and there's stepping out," he said. "I am stepping out of the company."
Joyce's father, the late Jack Joyce, a former Nike executive, co-founded Rogue in Newport, Oregon, in 1988.
Although the company, which sells its products in all 50 U.S. states, scaled production to a peak of 117,000 barrels in 2014, sales have declined over the last four years as thousands of new craft breweries have entered the category. Sales of Rogue offerings declined seven percent, to 98,000 barrels, in 2017, according to trade group the Brewers Association.
"It's a funny spot to be in," Joyce said of the current environment. "We are one of the smallest, nationally distributed independent craft breweries around, but we understand our position. We have to be outstanding in everything that we do in order to keep that position as a national brand."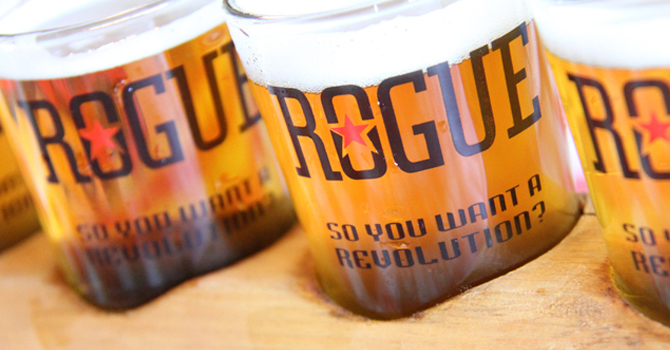 Tamm, who is only 31 years old, said his primary focus will not be on forcing rapid growth in the face of increasing competition, but rather to continue improving the quality of the company's beers, brands and packages.
"We are making sure that we can get our beers and spirits out into the world, and into the hands of consumers who want to try them," he said. "Getting our products on the shelves and allowing consumers to find it and share it with friends is — and will continue to be — our biggest challenge."
For its part, Rogue is perhaps one of the most diversified beer companies in the U.S. It makes beer, spirits, cider and soda, grows a variety of ingredients at its own farm, crafts its own wooden barrels, and currently operates seven brewpubs and two tasting rooms.
Joyce said the company does not have immediate plans to continue expanding the retail component of its business, despite increasing consumer interest in buying beer directly from breweries for on- and off-premise consumption.
"If there was an opportunity, we wouldn't say 'no,' but we aren't actively seeking out new locations," he said.
Tamm, a 2010 graduate of Stanford, who majored in mechanical engineering and German, previously spent seven years working with Anheuser-Busch InBev in a variety of roles, including as a brand director within the company's high end craft division, and as the general manager of Virtue Cider.
Joyce, who took over as the president of Rogue when he was just 34, believes promoting young talent into leadership positions is an important strategy for established companies that want to remain competitive.
"This is an industry where a lot of our consumers are younger," he said. "It is important to have diversity throughout your company, and diversity comes in a lot of different ways. Having a younger workforce and younger leaders is really important.
"I am self-aware enough to look in the mirror once in a while and know there are gray hairs staring back at me," he added.