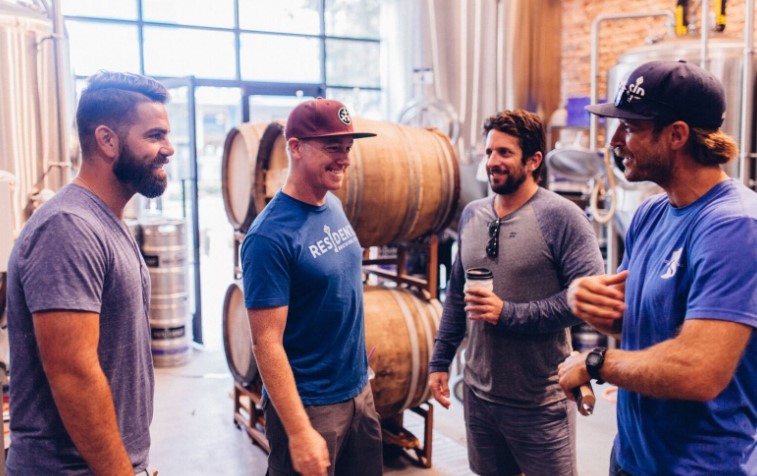 San Diego, CA — Everyday California, a La Jolla-based ocean adventure and apparel company, and San Diego's Resident Brewing Co. announced today the launch of 'Everyday California IPA'—a California-inspired craft beer. Released on Friday, August 11, the medium bodied brew is available at Resident Brewing and select Social Syndicate restaurants throughout San Diego, among others, while supplies last.
Founded as an ocean adventure company in La Jolla in 2012, Everyday California has become a leading adventure and apparel business, with local roots and an international presence. With a California-inspired apparel and footwear line, the company stays true to its mission of bringing the California spirit and sense of adventure to people across the globe. Resident Brewing is known for offering a San Diego-cool, inviting and relaxed beer experience for both novice and discerning beer drinkers. The brewery operates under the stewardship of award-winning brewer Robert Masterson and a carefully curated team of beer aficionados.
The companies collaborated to bring the new Everyday California IPA to the market, creating a brew that embodies the "California cool" lifestyle. The beer brings together tropical flavors resembling San Diego and hints of pine from Northern California.
"The Resident Brewing and Everyday California collaboration seemed like a natural fit," said Brendan Huffman, Managing Partner of Resident Brewing. "As two local companies dedicated to partnering with other growing San Diego businesses, we are excited to release the Everyday California Resident brew to a select number of venues around town. San Diegans know their craft beers and I think they're going to really enjoy what we've created together."
Tasting Notes
Medium body with light malt backbone. Brewed with Eureka, Amarillo and Columbus hops which gives this ale a tropical fruit aroma with hints pine and citrus. 6.5 % 50 IBUs.
"Living and working in San Diego, we've grown accustomed to the craft beer culture and Resident Brewing's exceptional beer," said Christopher Lynch, co-founder and managing partner at Everyday California. "This collaboration not only allows us to partner with a great local company, but also enables us to further extend our brand, all while staying true to our mission and vision."
The beer is now available at Resident Brewing inside the Local Downtown, (1065 4th Avenue, San Diego, California 92101,) The Local PB, Bayside Landing, Shore Rider, The Rabbit Hole and OB Surf Lodge, while supplies last.
About Everyday California
Based in La Jolla, Calif., Everyday California is a lifestyle company, offering ocean adventures and premium, California-inspired apparel. Operated by managing partners Christopher Lynch and Michael Samer, the company specializes in guided kayak tours of the La Jolla Ecological reserve and offers surfboard, paddleboard, kayak and snorkel rentals. Everyday California's apparel line includes fine quality womenswear and menswear, sold at its core retail stores in La Jolla, online and in select locations throughout California. From surf to ski, Everyday California embodies the California spirit and celebrates living life to the fullest. For more information, visit www.everydaycalifornia.com