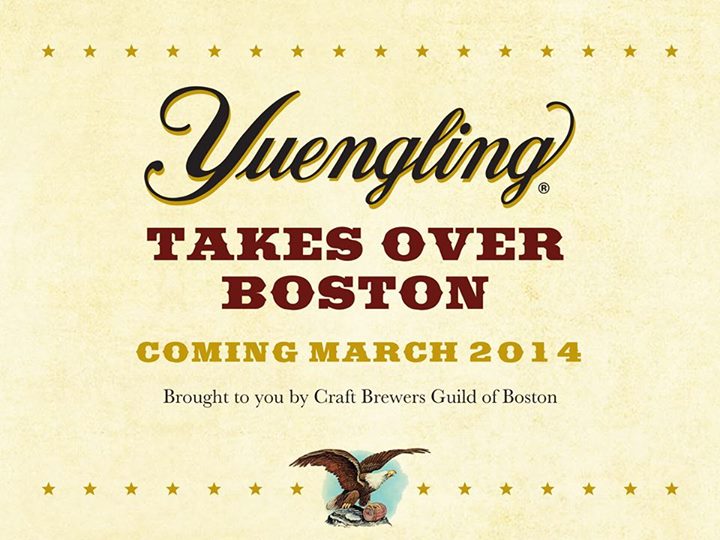 Yuengling seems to have kicked the door down during its returning to Massachusetts, having already secured nearly 6,000 points of distribution in the company's first month back in the Bay State, according to the Boston Globe.
The Pottsville, Pa.-based brewery's quick rollout should come as no surprise. In January, Yuengling COO Dave Casinelli told Brewbound that he'd be "very disappointed" if the company failed to capture five percent of the Massachusetts beer market in the first 12 months of the brand's return.
"Not since Coors or Corona has a brand come along that will have as much impact as Yuengling will in Massachusetts," he said at the time.
In today's Globe piece, author Gary Dzen asked a number of local brewery owners how their business has been impacted by Yuengling's return.
Somerville Brewing Co — known for its "Slumbrew" line of beers — has "suffered the ignominy of being bumped out if its own backyard, when its popular Slumbrew Porter Square Porter was replaced by Yuengling — by a bar in Porter Square, Somerville."
But it isn't just businesses from Mass. that are feeling the pressure. Out-of-state players like Brooklyn Brewery are also losing tap lines.
Brooklyn president Steve Hindy, after being told that his beer had been replaced by Yuengling at a popular South Boston sports bar, vowed to swing back at Yuengling.
"Well, I'm determined to go out and grab a Yuengling line today," he told the Globe. "How about that?"
It sounds like friendly competition in Massachusetts is melting away with the snow.
Either way, Yuengling's return hasn't stopped startup breweries from sprouting up in the state. Aeronaut Brewing Co., in Somerville, Mass., just raised $236,000 to purchase equipment and build out its own facility, reports the Boston Business Journal.
"We're right in the middle of Somerville, and we want to have a place where people can come and spend time and immerse themselves in this whole atmosphere of a brewery," Ronn Friedlander, brewery co-founder, told the website.
That "atmosphere" will differ from other breweries in that Aeronaut will also act as an "urban farm house," renting out extra space to startup food manufacturers, the article notes.
While Aeronaut works to get its spot open, out in Denver, Colo., Renegade Brewing Co. plans to expand with a second production facility and taproom this summer, according to Denver Westword.
The company has reportedly signed a lease for a 15,000 sq. ft. space in the Santa Fe arts district of Denver, and will soon install a 30-barrel brewhouse, "several" large fermentation tanks and a canning line.
"We are just out of space," Brian O'Connell, brewery co-owner, told the site, "and we can't keep up with demand, so we started looking for more space last summer. And since this neighborhood has become part of the identity of this company, we wanted to stay close."
O'Connell hopes the new brewery will be operational in July and Renegade plans to turn its existing facility into a barrel-storage cellar, the article notes.
Draft lines aren't the only thing that Steve Hindy is battling for these days. The brewer and former journalist penned an op-ed for the New York Times last weekend in which he deconstructed franchise laws that, he says, hurts brewers and protects distributors. The laws "limit consumer choice by keeping small and start-up breweries from moving easily into new markets."
"[S]tate laws continue to empower distributors to select brands and manage them however they want — selling those they choose to sell, while letting other brands sit in their warehouses," he wrote. "The only recourse is to sue, and many small breweries lack even a fraction of the resources needed to take on a big distributor in court."
Hindy also appeared on to CNBC's 'Street Signs' to voice his concerns and even called out the National Beer Wholesalers Association in the process.
"We have been talking to them for years — literally 15 years — and we've sort of given up," he told the program. "They are not budging on this and so we have decided to go to the media and try to tell our story and hopefully have some impact on public opinion."
Recall that in 2012, New York Gov. Andrew Cuomo signed into law a bill that sought to alleviate some of the issues with the state's existing franchise laws. The bill allowed brewers that produce less than 300,000 barrels annually or make up 3 percent or less of a distributor's total yearly output to terminate their contract provided they pay the wholesaler fair market value.