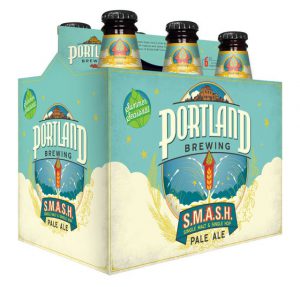 PORTLAND, Ore. — Portland Brewing is celebrating summer with simplicity, bringing back crowd favorite, single malt single hop (S.M.A.S.H.) Pale Ale, with a twist —brand new El Dorodo hops. This gold standard release is refreshing and full of flavor and reminds us all that sometimes a pared down recipe reigns king. Every year when summer rolls around, beer drinkers throughout the Northwest reach for S.M.A.S.H.
Small changes in a recipe can make all the difference. Head Brewer Ryan Pappe loves to experiment with hop varieties to demonstrate those differences in the flavor profile. "Changing which hops we use is such a great way to educate one's palate about the slight differences." Pappe says, "The El Dorodo hops we used this year lend subtle notes of tropical and stone fruits, which pair well with the rich, bready malt base of the Goldpils Vienna." Pappe is like most craft brewers — continuously on the hunt for new creative combinations of hops and malts to brew the next big thing, or, at the very least the next delicious beer.
Grab this seasonal before it's gone. You'll find S.M.A.S.H. Pale Ale in stores, bottle shops, and the Portland Brewing Company Taproom, now through September. S.M.A.S.H. Pale Ale is available in six-packs, 22 oz. bottles, and on draft in select locations.
About Portland Brewing Company
Celebrating thirty-one years of passionate brewing in the Rose City, Portland Brewing looks ahead to a future of unwavering obsession over what our civilized world simply can't live without: great beer. Founded in 1986, the brewery is one of Portland's craft brewing pioneers and remains committed to the city for which it is named. Portland Brewing is located at 2730 NW 31st Ave., Portland, OR 97210. For more information about Portland Brewing Company, head to their website, Facebook , Twitter, and Instagram.