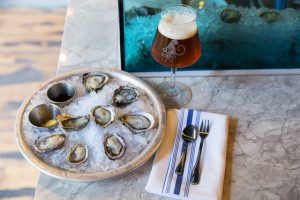 Seattle, WA — Pike Brewing is bringing beer and food lovers an expanded experience in Seattle's Shrine to Beer. Open now in our gravity flow, steam powered brewery is Tankard & Tun; a NW seafood centric restaurant, oyster bar and brew deck adjoining an expanded fermentation cellar. Tankard & Tun hones in on our decades of passion for pairing handcrafted beers with locally sourced and flavorful foods. The name is a toast to the timeless drinking tankard and Pike's mash tun brewing vessel which is in full display from the restaurant and adjacent Brew Deck.
With three distinct areas, Tankard & Tun gives you plenty of drinking and dining options. The bright and airy dining room and oyster bar are intimate yet lively. Nestled between the mash tun and fermentation is the brew deck, suited for casual dining and beers. Above it all is the mezzanine, tailor made for private events with sweeping views of the tanks and Pike Brewing Company complex.
Tankard & Tun is already receiving warm praise, with Eater Seattle noting how, "…glass walls throughout allow diners and passersby the ability to spy on the brewers at work" and Seattle Met magazine calling Chef Gabe's food, 'refined but not fussy.'
Tankard & Tun's culinary team is led by Chef Gabe Spiel. Born and raised in Seattle's Puget Sound region, Chef Gabe began his career 16 years ago as a line cook in The Pike Pub. Local pride in all our NW has to offer guides his menu, which will focus on in-season and locally grown and foraged food, complemented by Pike's handcrafted beers.
Visitors to Pike Brewing Company can enjoy two unique dining experiences featuring locally sourced menus paired with handcrafted beers brewed on site with the family friendly Pike Pub and Tankard & Tun. Craft beer lovers can also tour the brewery and take in beer's history in the Microbrewery Museum.
The Pike Brewing Company is an independent family owned brewery located in the historic Pike Place Public Market neighborhood. Founded in 1989 by craft beer pioneers, Charles and Rose Ann Finkel, Pike Brewing handcrafts beers of character including Pike Place Ale, Space Needle IPA, Hive Five, Pike IPA, Naughty Nellie, Kilt Lifter, Monk's Uncle, and XXXXX Stout along with seasonal and limited offerings.