Comstock Park, Mich. – Perrin Brewing joins Union Beer Distributors to introduce the Perrin line-up to the craft beer scene of New York. Perrin, based in Comstock Park, Michigan will offer year-round core brands, seasonal, and specialty bottles including No Rules, Vietnamese Imperial Porter, Black Ale, Gold Ale, 98 Problems IPA, and Grapefruit IPA.
The growth for Perrin Brewing has continued after a collaborative partnership with Oskar Blues Brewery (the first craft brewery in the US to can its beer) in Longmont, Colorado in 2015. Part of this continued growth is from the addition of canned packaging making Perrin beer available in most major retailers across the market. Since the rollout of can distribution, Perrin is prepared to offer packaged beer in several states outside of Michigan.
"No Rules" a 15% Vietnamese Imperial Porter is brewed with coconut, cinnamon and turbinado sugar then laid down and aged in bourbon barrels. RateBeer ranked "No Rules" in the Top 10 in the world for Imperial, Baltic Porters of 2016 and was ranked the World's Top New Beer Release of 2015. The online ratings of "No Rules" is a score of 100 for Style and 100 for the Overall categories; ending in a perfect RateBeer score.
Draft Magazine Ranked "No Rules" their #1 beer for Winter sipping.
"The cinnamon is an "old trick" from growing up as a beekeeper. Mead makers use to cinnamon to mask alcohol warmth, as it helped smooth out this brew," mentioned by John Stewart, Director of Brewing Operations at Perrin. "No Rules really shines as a dessert pairing. The turbinado sugar, a raw unfinished sugar brings out notes of maple and molasses."
Perrin Brewing distribution into New York market begins in mid/late April.
Perrin Brewing New York City Launch Events:
Monday, April 3rd – featuring Perrin Gold, 98 Problems IPA and Perrin BlackNorthern Bell 621 Metropolitan Ave, Williamsburg, Brooklyn 11211
Tuesday, April 4th – featuring Perrin Black, 98 Problems IPA, Caesar's Gimp, and No RulesCarmine Street Bar 52A Carmine St, New York, NY
Wednesday, April 5th – featuring Perrin Black, Perrin Gold, 98 Problems IPA and Caesar's Gimp
Beer Culture328 W 45th Street, New York, NY
Thursday, April 6th
Dive Bar – featuring Perrin Brewing, Oskar Blues, and Cigar City Brewing 732 Amsterdam Ave, New York, NY
More about Perrin Brewing lineup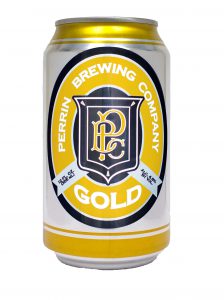 Perrin Gold Ale | ABV 4.8% IBU 15
A light, crisp and subtly sweet golden ale made with the sessionable beer drinker in mind. This was one of the first beers made at the brewery and it quickly became a popular style because of the accessibility and the gateway characteristics it embodies.
Hops: Magnum and CrystalMalts: 2 Row
Perrin Black Ale | ABV 5.8% IBU 20
A light bodied, crisp and flavorful dark ale with hints of semi-sweet chocolate and soft nuances of fresh coffee. This beer is counter intuitive in the way that it pours dark as night but tastes like a lighter beer encompassing a range of full flavor. #1 New Craft Can SKU in the US
Hops: German Magnum and CrystalMalts: 2 Row and Roasted Malts
98 Problems IPA | ABV 6.5% IBU 60
Our IPA accomplishes the nearly impossible feat of balancing a sweet malty backbone along with a blend of West Coast hops, which creates a crisp bitterness and imparts massive floral and citrus aromas. This is how an IPA should taste! 98 on RateBeer
Hops: Michigan Cascade, CascadeDry Hopped: Citra, CascadeMalts: 2 Row, Crystal
No Rules | ABV 15% IBU 56 
Vietnamese Imperial Porter
NO RULES were followed throughout the creation of this product.
This gigantic 15% Imperial Porter is deceptively smooth and subtly sweet with layers of flavor that never seem to end. Some say it tastes like a Mounds candy bar that's been dipped over and over again in rich chocolate and soaked in bourbon. Other people find flavors of coconut, cinnamon, toffee, vanilla, and coffee — and they would also be correct. This beer is special and there's a reason why it was named as the top beer in the World. 100 on RateBeer
About Perrin Brewing Company
Established in 2012, Perrin Brewing Company of Comstock Park, MI is committed to crafting high quality and consistent beer among each of the products with a focus on a classic look backed with a leading-edge taste. Offering 20+ beers in the taproom, Perrin intends to find a brew fit for everyone. Through the Oskar Blues/Perrin/Cigar City ownership team, Perrin has experienced exponential growth among package offerings, out-of-state distribution and an increase in barrel production. Perrin Brewing brewed over 23,500 barrels in 2016, a 60% increase over 2015. For more information, visit www.perrinbrewing.com