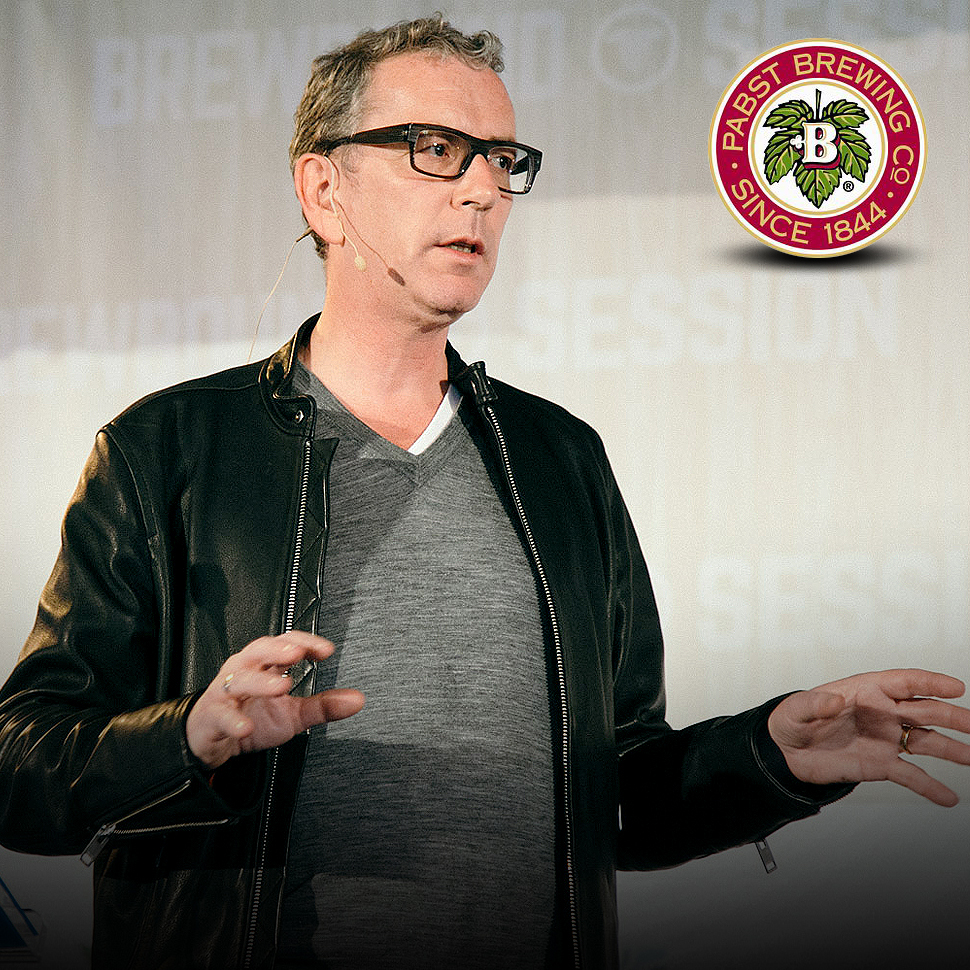 Three months after departing Duvel USA, beer industry veteran Simon Thorpe has been tapped as the new CEO of Pabst Brewing Company.
Thorpe — whose career also includes stints with InBev, Crayola, Kellogg's, Tambrands and Unilever — will take over the CEO position from Eugene Kashper, who will continue to serve as a principal owner and the full-time chairman of the Pabst board.
The company declined to comment on the terms of Thorpe's employment contract, but he will move to Los Angeles, where the company is headquartered, and assume the role on December 1.
In a note to distributor partners, Kashper said there would be a 60-day transition period to "ensure a smooth handover" of CEO responsibilities, which are focused around two key objectives: continuing to develop the company's heritage brands, and setting Pabst up to be a more active strategic partner within the craft segment.
"From the very beginning, I felt that the chairman and CEO roles should be split and that my experience and personality would be more suited to the chairman role," he told Brewbound during a phone call on Wednesday. "I am not stepping away. I am going to work as hard in the chairman role as I did over the past two years as CEO to support Simon's efforts to grow this business."
In addition to accelerating the growth of Pabst's core lager and local legends businesses, Thorpe — who was instrumental in helping Duvel Moortgat transform its U.S. business through mergers and acquisitions, including deals with Boulevard Brewing and Firestone Walker — will also be asked to help identify potential craft partnerships.
"His temperament, his leadership skills, his ability to develop people and build a truly cohesive team is an amazing asset to us," Kashper told Brewbound.
Kashper, meanwhile, will continue to play an active role in long-term decision-making and business strategy planning, while working alongside Thorpe to forge relationships with U.S. craft brewery owners
"It is important for me to have enough time to work on some of those relationships because if we are going to be partnering with founders and brand owners, that requires a lot of commitment and focus," Kashper said.
For his part, Thorpe credited Kashper with recognizing the need to split the two positions as the beer industry, and the Pabst organization itself, continues to evolve.
"As companies develop, often they don't have the awareness of how that company is changing," he said. "If you want to accelerate the growth of the company, you have to recognize when the right time is to split the job and bring in a new CEO. I admire Eugene's awareness to think about what is necessary."
Kashper, together with TSG Consumer Partners, purchased the country's fifth largest beer company in 2014 for a reported $750 million. Since, he's worked to reposition the company as one that plays more seriously within the high-end beer segment.
In doing so, Kashper has struck deals with brands like Not Your Father's Root Beer and Vermont Hard Cider, and launched new craft products like Rainier Mountain Pale Ale and the Not Your Father's Taproom series.
In an interview with Brewbound earlier this year, Kashper said his long-term goal is to transform Pabst into a company where 50 percent of revenues come from high end products priced above $25 per case.
By hiring Thorpe, Kashper not only gets a proven dealmaker, but also a CEO who has built a career on selling higher-margin products.
"His marketing background, and his feel for our portfolio and what it can become, is really important," Kashper said. "In addition, his deep experience in the high end, import and craft — and working in organizations that are entrepreneurial, smaller businesses with limited resources — that is deep knowledge that we really need and that will help us forge the right partnerships in the craft in import space."
To help develop a feel for the Pabst business, and to get more acquainted with Kashper, Thorpe spent the last six weeks working directly with Pabst board members to help refine the company's approach to mergers and acquisitions and "validate the strategy," he said.
"I have already been doing quite a bit of work to help shape how Pabst thinks about M&A and partnerships," he said. "I've provided structure around that so we can see the right candidates, and decisions, and go after them for the right reasons."
According to Thorpe, that strategy is one that asks four key questions:
Does it transform Pabst?
What does it do for the platform and does it play into areas of strength?
Does the owner want to stay on board?
Who is the core consumer?
As Pabst begins to focus more seriously on acquiring or partnering with craft breweries, Thorpe and Kashper said they plan to structure the organization to be a "nimble" and "flexible" partner for craft brewers.
"One of the reasons why we haven't done anything in craft beer yet is because I am not comfortable pursuing a situation where someone just wants to get out," Kashper said. "We are making sure we have a nimble and powerful sales and supply chain platform that will be ready for the right partnerships as they evolve organically and as a result of the relationships we've been building."
Pabst's press release announcing the executive appointment is below.
Editor's Note: Eugene Kashper will join tomorrow's Brewbound Session to discuss the company's craft partnership strategy. A limited number of tickets for the conference are still available. Register today. 
Simon Thorpe to Join Pabst Brewing Company as CEO
November 30, 2016 – Los Angeles, CA – Pabst Brewing Company (PBC), America's largest independent brewer, announced today that it has named Simon Thorpe Chief Executive Officer, effective December 1, 2016. Eugene Kashper, current Chairman and CEO, will remain full-time Chairman of the Board and continue to play an active role in the business. There will be a 60-day transition period between Kashper and Thorpe to ensure a smooth handover.
Simon was previously President/CEO of Duvel Moortgat USA, where he led the transformation of the company's U.S. craft brewing business into a respected leader in the craft beer segment. He was instrumental in building the high-end success of Duvel Moortgat's Brewery Ommegang in Upstate New York, and established Duvel Moortgat's partnerships with Boulevard Brewing Company in Kansas City, MO and Firestone Walker Brewing Company in Paso Robles, CA. Simon also led the development of Duvel Moortgat's import brand portfolio including Duvel, La Chouffe, Liefmans, and Mardesous. Over a 30-year career Thorpe has also served as Head of M&A/Strategy for InBev, President/CEO of Inbev USA and previously held positions with Crayola, Kellogg's, Tambrands, and Unilever.
"We are thrilled to have Simon join the Pabst team," said Eugene. "He is both a true beer industry visionary and a highly respected operator. I have no doubt that Simon's breadth of experience and proven leadership capabilities will enable us to realize our ambition to become a best-in-class beer supplier and a truly great American brewing company."
"I look forward to working closely with Simon to brew great beers and serve our loyal customers. We will continue to focus on Pabst Blue Ribbon and our core heritage brands while building a nimble and powerful sales and distribution platform that will allow us to continue forging exciting partnerships with like-minded independent brewers."
Simon added: "Pabst is an iconic American brewing company that is well positioned to be tremendously successful as the world of beer becomes even more competitive and complex. The company already has a vibrant culture and is filled with exceptionally talented people. The chance to join Eugene and the team at this particular time in the company's evolution is all that one could wish for. I am truly excited about what we can accomplish together."
Simon, his wife Kati, and their son Henry will relocate to Los Angeles, where Pabst is headquartered.
About Pabst Brewing Company
Since 1844, Pabst Brewing Company has been American-owned and operated, and is North America's largest privately held brewing company. Pabst's portfolio includes iconic brands with deep ties to America's heritage, such as its flagship Pabst Blue Ribbon as well as Lone Star, Rainier, Ballantine IPA, Schlitz, Old Style, National Bohemian, Stag, Stroh's, and Old Milwaukee. In 2016, PBR won the Gold Medal in the American lager category at the Great American Beer Festival for the 4th time in a decade. Pabst Brewing Company was also named Large Brewing Company of the Year. For more information about Pabst, please visit www.pabstbrewingco.com.