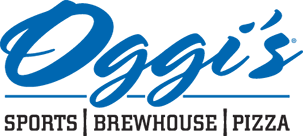 San Diego, CA – Toast to National Beer Day on April 7 with two brand new brews at Oggi's Sports Brewhouse Pizza. The richly flavored Barrel-Aged Imperial Brown and the refreshing seasonal release, "Brand New Day" IPA, are two thirst quenching new beers for craft beer lovers to explore and pair with Oggi's brewhouse fare.
The Barrel-Aged Imperial Brown is made up of six different varieties of premium malted barley that produces a dark brown ale, aged for three months in American oak medium toasted barrels. A sip of this brew takes you on a flavor journey of chocolate, honey, and biscuit that progresses into vanilla, oak, and molasses, and finishes with an enjoyable nutty brown sugar flavor.
Brand New Day IPA is a West Coast style American IPA with a medium high bitterness and a dry finish. It boasts aromas of citrus, grapefruit, tangerine, and pine from a generous use of American hops. Its subdued malt bill allows the hop flavors to dominate in this new brew. Both new beers will only be available for a limited time.
"At Oggi's we want to make sure we are giving our customers new and exciting flavors. Our brewers have been busy designing these two new beers and selecting only the best ingredients," said Estella Ferrera, vice president of Oggi's Sports Brewhouse Pizza. "The result is two exciting new beers I know our guests are going to love."
Beer lovers can sip on these new suds at one of Oggi's 14 full-service locations in Southern California and Arizona or at the two Oggi's Pizza Express locations in San Diego and Orange, California.
Oggi's was one of the first micro-breweries established in San Diego when founders George and John Hadjis started brewing beer at their first pizzeria in Del Mar back in 1995. Since then, Oggi's Sports Brewhouse Pizza has evolved from a pizzeria to a sports-themed restaurant and award-winning brewery, now headquartered in San Clemente, CA. Over the past two decades, Oggi's has earned more than 50 medals and awards at regional, national, and international beer competitions.
About Oggi's Pizza & Brewing Company:
Oggi's has nearly 25 years of experience brewing craft beers, serving fresh and authentic pizza and franchising. The successful full-service, sports-themed Oggi's Sports Brewhouse Pizza franchise has locations in California and Arizona with plans to expand to Barstow, Mission Viejo and the Bay Area this year. There are also two Oggi's Pizza Express locations in Southern California, which offer line-style ordering for affordable build-your-own-pizzas and handcrafted beer in a fast and casual setting.