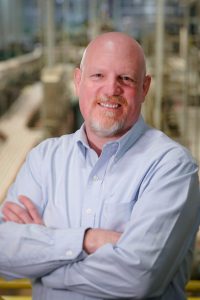 ROCHESTER, N.Y. — As a $48.5 million modernization of the Genesee Brewery nears completion, the company recently announced new leadership for key roles within the organization. Genesee Brewing Company named Steve Kaplan as head brewmaster and Mark Fabrizio as director of North American Breweries brewery operations, signaling a new era for the Genesee Brewery.
"This is a transformative time for the Genesee Brewery, as we embark on the completion of our brewery modernization," Mary Beth Popp, director of corporate relations said. "The modernization project involves the largest investment in the brewery's 140-year history, and we believe in Steve's and Mark's ability to fully take advantage of the new technology and shape the future of the Genesee Brewery in Rochester, New York."
The modernization began in October 2016 and will be completed in a couple of months. The project brings best-in-class equipment and technology to the brewery in the brewhouse and cold block where the beer is cooked and cooled, fermented and finished. Once complete, the brewery will operate more efficiently and sustainably with better capabilities to make a variety of beer and styles.
Steve Kaplan named head brewmaster
Kaplan, a 10-year industry veteran, leads all aspects of beer production and day-to-day brewery operations. Responsible for brewing innovation and quality, Kaplan oversees the development and production of both classic recipes and specialty brews. With the brewery modernization, Kaplan and his team now have the capability to make a broad variety of beer more efficiently by working on a smaller brewing system that is twice as fast as the previous one.
Kaplan has been with Genesee Brewery since 2011 and has advanced from assistant brewmaster to head brewmaster. Kaplan received his brewing training at the Siebel Institute of Technology. Formerly with Anheuser-Busch, Kaplan earned a bachelor's degree in mechanical engineering from Rochester Institute of Technology.
Mark Fabrizio leads U.S. brewery operations for North American Breweries (NAB)
As director of NAB brewery operations, Fabrizio is responsible for overall leadership and direction for brewery operations across North American Breweries' Rochester, Burlington, Portland and Seattle breweries. Under his leadership, the breweries work to achieve continuous improvement in safety, quality, service and performance results.
With this new position, Fabrizio will transition the Genesee Rochester team to the new modern brewing system, with an eye toward efficiency and best-in-class operations. Prior to this role, Fabrizio led the Genesee Brewery modernization project for North American Breweries.
Fabrizio joined the Genesee Brewery in 2015 as director of project management and continuous improvement. He has over 20 years of experience in the beer industry, including multiple leadership positions within Anheuser-Busch and Boston Beer Company. He holds a bachelor's degree in chemical engineering from Clarkson University.
About Genesee Brewing Company
Established in 1878, the Genesee Brewery—New York state's oldest brewery—makes the classic Genesee line of beers and the Original Honey Brown Lager, as well as Seagram's Escapes. The Genesee Brewery also manufactures beer and other alcoholic and non-alcoholic beverages under contracts on behalf of other companies. For more information, visit www.geneseebeer.com.
About North American Breweries
North American Breweries, headquartered in Rochester, New York is among the top 10 brewers in the United States. Following a triple bottom line business strategy, NAB prioritizes people, planet and profits to drive business results, reduce social and environmental footprints and engage stakeholders.
NAB's portfolio includes: The Genesee Brewing Company in Rochester, New York; The Magic Hat Brewing Company in Burlington, VT; Portland Brewing Company in Portland, OR; Pyramid Brewing in Seattle, WA; and Seagram's Escapes. The breweries each have an alehouse focused on delivering a customer experience around the beer.
NAB also owns exclusive rights to import and market the Labatt family of brands and the Imperial brand of beer in the U.S. Along with its own brands, NAB contract brews beer and other alcoholic beverages on behalf of other companies. For more information, please visit www.nabreweries.com.