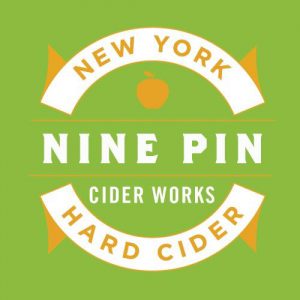 ALBANY, N.Y. – Nine Pin CiderWorks ("Nine Pin"), New York's first farm cidery, has announced the release of Nine Pin Strawberry Limited Reserve in 22 oz. bottles.
Nine Pin Strawberry cider is a celebration of two New York fruits. Crafted using New York apples from Samascott Orchards in Kinderhook, N.Y. together with nearly a half-ton of fresh strawberries from Fantasy Fruit Farm in Afton, N.Y,this cider is bright and bubbly with juicy strawberry notes.
This cider is the latest in a series of co-fermented cider to be released by the Albany-based farm cidery. Nine Pin continues to utilize their unique co-fermentation process where other ingredients are added to build cider complexity.
"NinePin Strawberry results in a really well-integrated strawberry note to the final product that's fruity and tart with an incredible fresh berry finish," said Alejandro del Peral, co-founder and cider maker, Nine Pin Cider Works. "This is another perfect marriage of regional fruits and apples, where the trust in the quality of New York produce is truly expressed in this new blend."
"We've done this with blueberries, we've done it with raspberries, we've done it with aloe vera, we've done with hawthorns, cardamom, walnuts – we've gone crazy with the co-fermentations," del Peral continued. "Because the yeast consumes the sugar within the added ingredient, it infuses the alcohol with additional natural flavor."
Strawberry Limited Reserve will be available starting July 12 at the Nine Pin tasting room, local farmers markets, and beginning the week of July 17, through retailers proudly carrying Nine Pin products.
For more information about Nine Pin and where it can be found, visit ninepincider.com.