A new generation is now leading the day-to-day operations of 30-year-old Grand Teton Brewing Company at a time when competition has never been stiffer.
Last year, Chris Furbacher and his wife, Laura, moved to Victor, Idaho to help his parents, Steve and Ellen Furbacher, run the 30-year-old craft brewery, which the family has owned since 2009.
Several long-time employees had left the company, and the Furbachers were in the midst of pulling the brand out of several markets to focus on its key territories of Idaho and Wyoming.
Chris Furbacher, who had been living in Minnesota and working as a Midwest sales rep for the brewery, assumed the role of director of brewery operations, while Laura took over the company's logistics.
Steve and Ellen Furbacher handed over much of the company's daily operations, but they both remain active in the brewery — Steve manages the brewery's finances while Ellen runs the pub and files label approvals with the Alcohol and Tobacco Tax and Trade Bureau.
"They've done a really good job of setting up our business for success so that this young core can really take it and run without having our hands tied behind our backs with really bad loans," Furbacher said.
At its peak in 2012, Grand Teton was selling more than 10,000 barrels of beer across 15 states. Since then, however, around 4,500 new craft beer companies have opened as a trend toward hyperlocalization has intensified. At the same time, craft category growth has slowed from a peak of 18 percent in 2013 and 2014, to just 5 percent in 2017.
Those factors have forced Grand Teton to pull out of several markets, including California and several Midwestern states.
The company now produces around 8,500 barrels of beer annually — 80 percent of which is sold in Idaho and neighboring Jackson, Wyoming, Furbacher said. Even though its production has declined and its distribution footprint has tightened, Furbacher said the new reality isn't necessarily bad for the company.
"It's not great for the bottom line at this moment time," he said. "But what you hear about all over the industry right now is weathering this 'storm,' and now we can really pin our ears back and focus on not having to market beer in so many different places."
Despite the headwinds, Furbacher remains optimistic.
"I think right now we're getting to the point where we can plan out 2019 and beyond and really start humming," he said.
Part of the company's plan moving forward is aimed at prioritizing its sales efforts in Boise and Coeur d'Alene, among other local markets, Furbacher said. The craft brewery is also emphasizing sales inside nearby national parks, which account for about half of its business during a busy tourism season that runs from May through October.
"Such a big part of our business has been national parks, especially Yellowstone," said Furbacher, who credited the brewery's co-founder, Charlie Otto, with making many of those deals in the late 1980s. "Obviously, the benefit is huge volume. Seven million people went through Grand Teton National Park last year."
The lack of visitors during the winter months negatively impacts the Grand Teton business, Furbacher said. So in order to make up for lost sales, the company's sales team shifts its focus to local ski resorts. Nevertheless, competition for draft lines in resorts can be fierce. Last year, Grand Teton lost its top winter account, Jackson Hole Mountain Resort, to Anheuser-Busch, Furbacher said.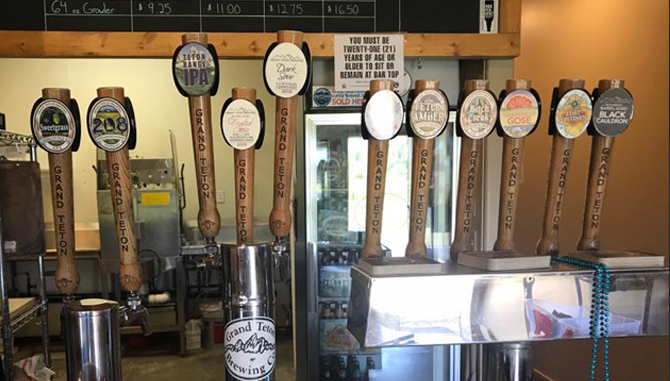 Still, Furbacher said his sales force remains focused on securing accounts at resorts in the Tetons mountain range.
"The Tetons are such a great skiing mecca, so we piggyback off of that a little," he said.
Looking ahead to 2019, Furbacher said Grand Teton's top priority is transitioning from glass bottles to aluminum cans by next April in order to capitalize on consumers' desire for more portable beer options.
"Will we lose some customers because they only buy bottles still, yeah," Furbacher said. "But we're going to gain a heck of a lot more people that are buying beer for their backpacks, for their campsites, for their boats."
Also in 2019, Grand Teton plans to expand its pub and tasting room by adding an outdoor patio, Furbacher said.
"We get a large number of tourists in the summer so expanding and building up the lawn is a target for us," he added. "We want to expand the pub because in the winter we get a ton of backcountry skiers. But it's so small we have to turn people away right now."