River North Brewery Talks New Space, Branches Out From Belgian Beers with IPAs
Denver's River North District is developing so fast that it pushed out one of its pioneers. Matthew and Jessica Hess' River North Brewery was forced to move out of its namesake neighborhood when the property's landlord decided to transform the space into luxury condos and apartments."We were the first brewery in RiNo, and I guess the first to leave too," Matthew Hess said with a laugh. "And the only one to leave. Not by our choice necessarily."
When River North opened in 2012, there wasn't a lot of development in the area. But the neighborhood has evolved into "one of the densest areas for the state, if not the country," Matthew Hess said.
"Everything's getting bought up and turned into condos, apartments," he said.
Big beer is also moving into the neighborhood. Blue Moon Brewing Co., part of MillerCoors' Tenth and Blake division, opened a brewery and restaurant in the neighborhood in September.
"Some of the bigger breweries coming into the neighborhood is probably going to change it a little bit, but all of our neighborhood breweries that kind of gave the neighborhood a name for beer are still going to be there," Matthew Hess said. "I think it'll still be a great neighborhood for beer for a long time in the future."
The Hesses re-opened River North in April in an industrial park in an unincorporated area of the city a couple of miles north of their old location.
"We're a Denver address," Matthew Hess said, "but we're like three or five blocks outside of the city limits."
"It's a weekend destination," Jessica Hess added.
The move has tripled River North's capacity, and the brewery now has twice as much space as the old location.
"We were kind of bursting at the seams at the old location," Matthew Hess said. "We'll still be able to expand beyond that with the addition of new fermenters and tanks in that location."
Growth at the brewery includes additions to River North's can lineup. Currently, River North puts out two canned beers: River North White witbier and River North Farmhouse. Hess plans to add two more beers to that lineup in early 2017.
"We're actually going to expand our beers outside of the Belgian realm," he said. "We just started brewing some fantastic American IPAs, a pilsner. Some of those will eventually make their way to cans as well.
"I love brewing Belgian beers; that's kind of how we got our start, but I love drinking all styles of beers," Hess continued. "I love IPAs. I love lagers. Now that we have a new location, we actually have some tank space, we can actually start working on some of these projects that we didn't have the option to do before because we were kind of maxed out at the old location. We have room to play now."
Meanwhile, River North will continue its barrel-aging and sour projects. But don't look for River North to return to the neighborhood that gave it a name anytime soon.
"Probably within a year or two, we hope to get a flagship taproom back in the original neighborhood," Matthew Hess said.
Great Lakes Looking At Expansion
Great Lakes Brewing Co. is looking at 78 acres for a planned expansion, according to brewmaster Mark Hunger.
The new property augment the Cleveland, Ohio, brewery's existing plant, Hunger said. However, nothing has been finalized, and Great Lakes remains in the "architectural stage" of development.
Great Lakes produced 166,559 barrels in 2015, according to statistics from the Brewers Association.
Founders Brewing Company Opens New Barrel-Aging Facility, Releases Pilsner
Founders Brewing Company's new 190,000 sq. ft. barrel-aging facility and warehouse is now online in Grand Rapids, Michigan. Brewmaster Jeremy Kosmicki told Brewbound that the 80-barrel brewhouse will help Founders keep its barrels. Maybe this will ease the demand for much-loved stouts KBS and CBS.
Founders has also launched a new pilsner, PC Pils, in 15-pack cans, which Kosmicki called "sessionable" and "hoppy."
"I did something a little bit different and featured American hops," he said.
PC Pils is brewed with Cascade, Centennial and Chinook hops, and Kosmicki said it is "crushable" and available now.
Jester King Starts Farming
Jester King is taking being a farmhouse brewery to heart. The Austin, Texas, brewery tapped out of beer early at the Great American Beer Fest, and Brewbound was able to catch up with founder Jeffrey Stuffings, who talked about the nearly 60 acres of farmland that his brewery bought late last year.
Other breweries have tried to farm in the past. Rogue Ales & Spirits still operates a farm in Independence, Oregon, and earlier this year, Stone Brewing Co. shuttered its organic farm in Escondido.
Stuffings told Brewbound that Jester King has planted a year and a half of fruits and vegetables, and he's looking at winter wheat and barley for the colder months. In the spring, he plans to plant peach and plum trees along with blackberries and melons. All of this is to literally put the produce in Jester King's beers.
Real Ale Bottling Sour Series
Tim Schwartz, Real Ale Brewing Company's chief operations officer, told Brewbound that the 6-year-old barrel-aged sour series, Mysterium Verum, is finally going into bottles by the end of October or early November.
Schwartz said Blanco, Texas, brewery will start the series with Tenebrae Aeterna (a robust porter barrel-aged for two years with wild yeast and bacteria) and Scots Gone Wild ( a 12-to-14 month barrel-aged Scotch ale).
Real Ale will produce 300 cases, with 12 bottles per case, he added, with four to five more releases planned over the next six months in Texas. Better work out a bottle swap plan.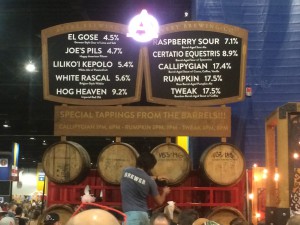 Avery Brewing Ends GABF Strong
Avery Brewing opened up the barrels to close out GABF, attracting swarms of drinkers before Saturday night's last call.
An Avery brewer stood on a ladder and poured a variety of the Boulder, Colorado-based brewery's high-ABV, barrel-aged beers, including Rumpkin (17.5 percent ABV rum barrel-aged pumpkin beer), Tweak (17.5 percent ABV bourbon barrel-aged stout with coffee) and Callipygian (17.4 percent ABV barrel-aged stout with cocoa, coffee and vanilla).
Avery's marketing director, Mike Mackay, seemed pleased to be among the people's choices even if Avery didn't claim a medal this year.
Trendspotting
What's popular? There were lots of lines for sour beers, including Black Project Spontaneous and Wild Ales, and Cannabis-infused beers — Dad & Dudes Breweria was surrounded for most of the weekend. There's no THC in the latter, so no one's getting high.
Pliny the Elder kept Russian River's table busy, but St Pils made the wait worthwhile at Vinnie and Natalie Cilurzo's table. Florida's Cigar City and North Carolina's Wicked Weed also proved to be worth the time commitment.
Maple Bacon Coffee Porter looked to be a budding mashup. Great South Bay and Funky Buddha Brewery were each pouring the beer in the meet-the-brewer area.
Funky Buddha Brewery also drew long lines all weekend long as people waited for several minutes to try the Fort Lauderdale, Florida, brewery's Last Snow coconut and coffee porter and limited-release No Crusts brown ale with peanut butter and jelly sandwiches added. No Crusts lived up to its billing as tasting just like the sack-lunch favorite.