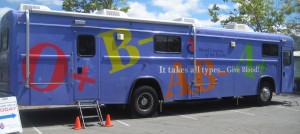 Larkspur, CA. — Marin Brewing Company announced today that they will be holding their annual blood drive on Saturday, October 19 from 12:00 PM — 5:00 PM. The blood drive will be held in the Marin Brewing Company parking lot at 1809 Larkspur Landing Circle with the help of Blood Centers of the Pacific's bloodmobile. All donors will receive a complimentary meal from Marin Brewing Company.
Marin Brewing Company and Blood Centers of the Pacific have been working together since 2007 and, to date, have received over 450 pints of blood through the biannual drive. This year's blood drive will mark the 10th time Marin Brewing Company has partnered with Blood Centers of the Pacific to promote blood donation and both companies are hoping for a record turnout.
Donors can sign up in advance, which is recommended, by visiting www.bloodheroes.com and using the sponsor code: BREW. Donors can also set up their appointment over the phone at (415) 749-6696.
Founder Brendan Moylan is excited to support the cause, commenting, "Blood Centers of the Pacific provides the critical link between blood donors who generously give the gift of life and the local patients in our community who need this lifesaving gift. We are happy to support their important mission. We hope everyone will come out to donate and then enjoy a great meal on us."
About Blood Centers of the Pacific
Blood Centers of the Pacific is a community based, nonprofit blood center that collects blood donations and provides safe blood and blood components for transfusion and related services to more than 48 hospitals in the Bay Area and Northern California. An affiliate of United Blood Services, the second largest blood collection organization in the U.S., it also houses the Blood Systems Research Institute.
About Marin Brewing Company
Founded in 1989, Marin Brewing Company is a premiere craft brewery and restaurant located in Larkspur, California. Marin Brewing Company has won global recognition for outstanding artisan beers. To learn more about Marin Brewing Company's award-winning family of beers and our acclaimed food selection, visit the Marin Brewing Company website. You can also follow the Marin Brewing Company Twitter page or Marin Brewing Company Facebook page to stay up to date with all our latest news and events.