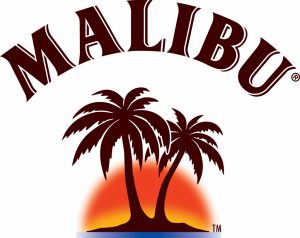 STAMFORD, Conn. — United States Beverage (US Beverage) today announced the upcoming launch of Malibu® Beer, a first-of-its-kind product aiming to redefine the Summer beer landscape bringing more flavor and more fun to a growing consumer space. This refreshing golden lager is flavored with a hint of natural coconut for a light tropical note and features 5% ABV. The product is slated for a select market roll-out beginning May 1st 2017 in Miami/Fort Lauderdale (FL), San Diego (CA) & Ann-Arbor/Lansing (MI).  Produced in the Caribbean, Malibu® Beer will be imported into the U.S. market by United States Beverage under exclusive licensing from the Malibu® brand.
The introduction of Malibu® Beer was based on extensive research done over the past several years that identified consumers' desire for a mainstream lighter-bodied beer with flavor. "Research confirmed that a beer that embodies the flavor and fun personality traits of the Malibu brand is an innovative concept that appeals to the US beer consumer," said Justin Fisch, VP/ General Manager at US Beverage.
Malibu Beer is launching May in the US.
"Consumers love the idea of Malibu Beer! The Malibu brand name has the credentials to appeal to consumers within the beer category. Beer's share of Malibu's Summer Drinking Occasion is almost 50%, so there is an enormous potential for Malibu to win in that space," said Jean-Baptiste Viton, Global Innovation Director for Malibu®.
Consumers can expect to see, feel and taste Malibu Beer through a mix of in-store displays, sampling, events, digital media and more. The product will be available in Miami/Fort Lauderdale (FL), San Diego (CA) & Ann Arbor and Lansing  (MI). Malibu® Beer is imported from the Caribbean and will be sold in 6-pack, 330ml bottles.
For more information, please see Media Contacts below.
About Malibu
Malibu® is the world's biggest flavored rum brand. The United States is Malibu's largest market where the brand enjoys high awareness and a strong, consistent association with Summer. Malibu® is part of Pernod-Ricard, co-leader of the global wines and spirits industry representing 91 million cases of spirits and 25 million cases of wine, and owning 19 of the world's top 100 brands.
About United States Beverage
United States Beverage (USB) is a premium craft and imported beer sales and marketing company located in Stamford, Connecticut.  USB provides a national distribution network for a portfolio of premium brands including: Moosehead Lager & Moosehead Radler from Canada; Innis & Gunn from Scotland; Super Bock from Portugal; Sonoma Cider from Healdsburg, CA; the Grupo Damm portfolio of brands from Spain: Estrella Damm, Inedit Damm, and Daura Damm; Czechvar and Czechvar Dark from the Czech Republic; Tona Cerveza from Nicaragua; Kalik from the Bahamas, 1911 Cider from Lafayette, NY, and Empire Brewing from Cazenovia, NY. 2017 commemorates United States Beverage's 20th anniversary of representing premium craft and import brands. www.unitedstatesbeverage.com.