Sunday Sales Legal Now in Indiana
Indiana Gov Eric Holcomb signed a bill into law last week allowing Sunday sales of alcoholic beverages in the state's grocery, liquor, drug and convenience stores from noon to 8 p.m., the Indianapolis Star reported.
Holcomb tweeted yesterday, the first official day of sales: "Cheers to a great first day of #SundaySales buying @3floyds and picking up some @GuntrorpFarms pork chops at @GoosetheMarket."
However, consumers will still only be able to purchase refrigerated beer at liquor stores. Earlier this year, Sen. Phil Boots' proposal to change state laws to allow for the sale of cold beer at grocery and convenience stores was unsuccessful.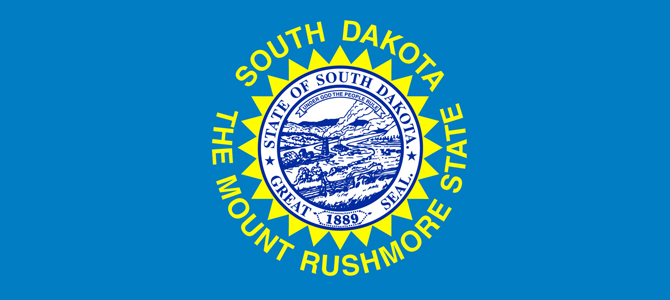 South Dakota House, Senate Vote to Increase Barrel Cap
South Dakota breweries are one step closer to raising a production cap while maintaining the ability to sell directly to consumers.
Lawmakers have reached a compromise on competing bills to increase the state's barrelage cap above its current 5,000-barrel limit for breweries that also operate taprooms and sell directly to consumer, according to the Associated Press.
Under Senate Bill 173, a microbrewery license would be created allowing breweries to make up to 30,000 barrels of beer annually while retaining the right to operate up to five additional off-site taprooms. The bill would also permit brewers to self-distribute up to 1,500 barrels of beer to bars and retailers, the AP reported.
The South Dakota House today passed the bill, which already had Senate approval.
"This bill removes barriers to growth and allows them to better compete in the marketplace," Americans for Prosperity South Dakota deputy state director Andrew Curley said via a press release.
Tensions High at Maryland Alcohol Reform Hearing
Maryland's heated alcoholic beverage reform debate came to a head during a recent hearing, according to the Baltimore Sun.
State comptroller Peter Franchot came into the meeting pushing his brewery-friendly legislation, the Reform on Tap Act of 2018, which would allow beermakers to sell an unlimited amount of their product via their taprooms. The legislation would also rework the state's franchise laws to enable brewers to break their wholesaler partnerships.
During the hearing, Franchot called on lawmakers to pass his bill without amendments.
"This bill creates a world without limits for our craft brewers," he told the committee.
The committee was unmoved, forcing Franchot to wait four hours to testify and criticizing the state's top alcohol regulator for becoming a cheerleader for brewers.
Vermont Craft Brewers Seek Franchise Law Changes
Craft brewers in the state of Vermont are seeking franchise law reform, according to Vermont Public Radio.
"Once brewers work with a distributor for a certain amount of time, essentially the rights to distribute their beer are owned by the distributor forever," Vermont Brewers Association president and Hermit Thrush Brewery co-founder Avery Schwenk told VPR. "They have the right to distribute your beer, trade your brand, and you have no say in that relationship or what happens to your beer after that."
Vermont brewers are backing House Bill 710, which would allow breweries that produce no more than 300,000 barrels of beer annually to terminate their franchise agreements without cause. Brewers would need to give 30-days notice and pay "reasonable compensation," among other things, to terminate their deals.
Breweries who produce more than 300,000 barrels annually would not be allowed to terminate distributor contracts unless they can prove good cause.
The bill is currently in committee.
Michigan Expands Growler Sales Privileges
Growlers of beer are now more widely available in Michigan.
Michigan Gov. Rick Snyder last week signed a bill that expanded the definition of what it means to be an "eligible merchant," according to Patch.com.
Sales of growlers — refillable glass containers — are now permitted at certain retail establishments as long as the growler is sealed and has a label that includes the beer's brand name, style, net contents and the name of the reseller, among other restrictions.
Kentucky Bill to Increase On-Premise Sales Limits at Breweries Advances
Legislation that would increase the on-premise sales limit for how much packaged beer can be sold by Kentucky microbrewers is inching closer to approval after the state Senate voted last Thursday to pass the bill, according to WDRB reported.
The proposed legislation would allow customers to purchase up to 31 gallons of beer per day. Currently, consumers can purchase up to a case of 12 oz. beers (or 2.25 gallons) daily from the state's breweries.
Contract Brewing Bill Advances in Kansas
On Friday, the Kansas Senate's Federal and State Affairs committee recommended the passage of House Bill 2470, which would allow Kansas microbreweries to contract brew beer or hard cider for in- and out-of-state companies, according to KSNT.
The Senate is also considering House Bill 2475, which would allow breweries to fill and refill 32 oz. and 64 oz. growlers for off-premise consumption, the outlet reported.
14 Oklahoma Counties Could Lose Ability to Sell Beer
Restaurants and bars in 14 Oklahoma counties could lose the right to sell beer once a full-strength beer becomes legal in October, according to the Associated Press.
The 14 counties will need voters to approve liquor-by-the-drink sales in order to continue selling stronger proof beer, the outlet reported. The state's Alcoholic Beverage Laws Enforcement Commission is encouraging the counties to use a June 26 primary election to approve sales.
"There are people in dry counties that are used to having a beer with their pizza, and when 3.2 beer goes away, that won't be possible," Keith Burt, Alcoholic Beverage Laws Enforcement Commission director, told the AP.