Stone Taps First Berlin Brews
San Diego's Stone Brewing has officially become the "first American brewer to independently build, own and operate a brewery in Europe," the company said Monday.
Stone, which announced its $25 million Deutschland brewery project in last July, tapped the first beers Berlin-brewed beers at about 40 bars, restaurants and breweries throughout Europe on Dec 7.
In a press statement, brewery co-founder founder Greg Koch described the occasion as a "significant moment for craft beer internationally."
"We've worked long and hard to introduce our vision of bold, innovative craft beer to Europeans, and that day has finally arrived," he said.
The inaugural line up included classics like Stone IPA and Arrogant Bastard, as well as Xocoveza Mocha Stout.
Brewed in collaboration with Cerveceria Insurgente, the Xocoveza recipe was was originally submitted to Stone by homebrewer Chris Banker as part of an annual contest hosted by the brewery. The unique set of ingredients gives Stone Berlin the opportunity to work collaboratively with local German brands — the European version of the beer features German-sourced coffee and cocoa from Five-Elephants Coffee and Belizyum.
All of the beers released this week were brewed using the Berlin brewery's 10-hectoliter system — about 8.5 barrels. This will ultimately function as a pilot system for brewers when the full 100-hectoliter brewhouse is installed next spring. The new Berlin brewery will also feature a packaging hall, restaurant and gardens, all of which are still under construction and expected to open in March.
Stone's Berlin-brewed beers are now available at select pubs in Germany, Belgium, the Netherlands, Poland, Spain, and the United Kingdom.
San Francisco's Magnolia Brewing Files for Chapter 11 Bankruptcy Protection
Magnolia Brewing Co., which opened its doors in San Francisco's famous Haight-Ashbury neighborhood in 1997, has filed for Chapter 11 bankruptcy, the San Francisco Business Times reports.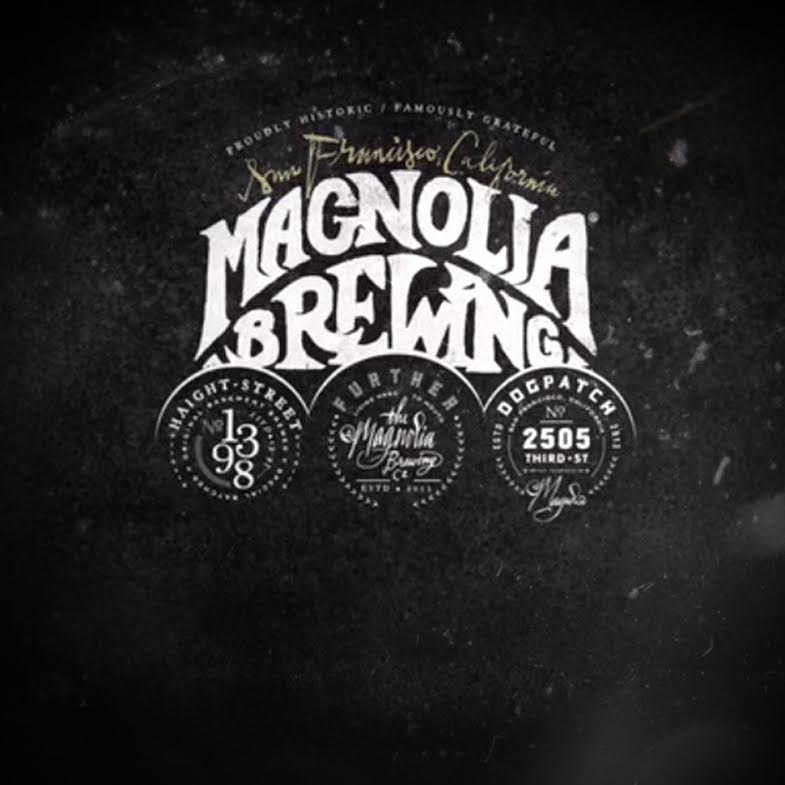 In an interview with the Business Times, Magnolia Brewing owner Dave McLean said that his company has "more debt than it can manage with its current cash flow."
"Our two restaurants are busy, sales are strong, and we're seeing really great growth in our beer distribution," he said. "We feel like this is the best course for all of our stakeholders and expect to emerge from this stronger than ever."
The decision to file for bankruptcy protection — which does not necessarily mean an untimely end for Magnolia — follows expansion efforts taken by the company last year, when it opened the "Smokestack at Magnolia Brewing" location in city's Dogpatch neighborhood. The new 10,000 sq. ft. restaurant and brewery, its second location, cost an estimated $3 million to build and could help explain the imbalance between the company's debt load and free cash flow.
According to the Business Times, McLean had predicted that increased production capacity at the new facility, paired with the consistent sales from the smaller brewery, would offset the high cost of building out the new location.
Under Chapter 11 laws, businesses are typically allowed to reorganize, pay creditors back under the supervision of the court and remain in business.
The voluntary bankruptcy filing comes at a time when San Francisco's residential and commercial real estate prices are skyrocketing, due to increasing demand from Silicon Valley tech startups, and as the number of operating breweries in California has surged past 600.
Not Your Father's Trademark
Another day, another trademark dispute.
Small Town Brewery — which is partly owned by Pabst CEO Eugene Kashper and other brewery executives — is suing Sprecher Brewing Company. In the suit, Small Town cites Sprecher's use of the term "Not Your…" as an infringing phrase coined by the Wauconda, IL-based brewery, according to The Daily Herald.
Small Town is best known for its hard soda, Not Your Father's Root Beer, which surpassed $90 million in off-premise sales this year, according to market research firm IRI Worldwide. The brewery uses the "Not Your…" phrase in many of its beverages, such as Not Your Mom's Apple Pie and Not Your Father's Ginger Ale.
At issue is Sprecher Brewing's use of the phrase "Not Your Granddaddy's Root Beer… Or Maybe It Is," on the carrier-packages and shipping cases of its alcoholic root beer.
According to the official lawsuit, "upon information and belief, (Sprecher's) use of 'Not Your Grandaddy's Root Beer' is likely to cause confusion, to cause mistake, or to deceive in light of the Not Your Father's and Not Your Father's Root Beer marks and constitutes trademark infringement."
In the five-count complaint filed last month, Small Town asserts that its competitor is willfully committing infringement of a federally registered trademark, engaging in unfair competition and using deceptive trade practices under Illinois law.
Small Town first released Not Your Father's Root Beer with a beverage-related trademark back in April of 2012. Sprecher first introduced its hard root beer offering in January of 2013.
Small Town is seeking unspecified damages and profits from the sale of Sprecher's root beer.
"Sprecher Brewing Company respects and complies with all applicable laws and regulations as we have with regards to the violation of trademarks alleged in this filing." Sprecher President Jeff Hamilton said in an official statement sent to Chicago's Daily Herald, "We are confident that we will prevail if Small Town chooses to continue with the action."
Not Your Father's Root Beer is a nationally distributed product, although it was formerly only available in the Chicago area.
Amazon Launches One Hour Booze Delivery
Watch out Drizly, there's a new competitor entering the on-demand alcohol delivery game. On Wednesday, e-commerce giant Amazon, via its Prime Now mobile app, rolled out one-hour delivery of beer, wine and spirits throughout Manhattan, according to tech news website Re/code.
For $7.99, Amazon Prime customers using the app can have booze delivered to their door in under an hour. Two-hour deliveries are free, the website reports.
In an interview with the website, Stephenie Landry, the general manager of Amazon's Prime Now service, also said the company is looking to deliver alcohol in more of the 20 U.S. cities.