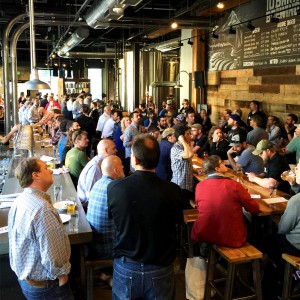 10 Barrel Looks to Open Brewpub in San Diego
10 Barrel Brewing could be planning to open another brewpub outside of its home state of Oregon — this time in San Diego.
According to The San Diego Union-Tribune, which obtained building documents that point to a new 10 Barrel pub, the 10,000 sq. ft. location could have a small brewery and rooftop dining.
Garrett Wales, co-founder of 10 Barrel Brewing, said all potential brewpub expansions are part of the company's long-term strategy of promoting the brand through its own pubs.
"Pubs are a part of the 10 Barrel experience, a way for us to share our culture and learn what beers consumers are most excited about," Wales' told the outlet in a formal statement. "We're stoked to explore other cities that might make sense for building a pub experience, but haven't made any final decision yet in San Diego. We'll share details when we can."
News of the new brewpub drew criticism from local craft beer enthusiasts and the San Diego Brewers Guild. The Guild's president emeritus, Kevin Hopkins, described the move as "not a great thing for San Diego."
"This will have a local feel to it when it's not," Hopkins told the Tribune.
"And will look like craft beer when it's not," he added.
North Carolina Teamsters Protest MillerCoors' Closure of Eden Brewery
In an open letter sent to MillerCoors executives, Teamsters' General President Jim Hoffa urged the company to keep it's Eden, North Carolina brewery open. Calling the company's decision to close "callous and short-sighted," Hoffa accused the company of closing the brewery to avoid potential antitrust inquiries or a forced divestment of the brewery to a competitor.
"We are not fooled by MillerCoors' claim that the decision to close Eden was made to adjust to declining sales volumes and excess capacity," the letter read. "MillerCoors' breweries, including Eden, operate seven days a week, most days on a 24-hour schedule, to meet the annual production quotas. MillerCoors continues to pay significant and sometimes mandatory overtime to our members to meet these quotas."
Hoffa pointed to the timing of the closure and AB Inbev's impending acquisition of SABMiller, a transaction that antitrust regulators across the world continue to scrutinize. He also accused the company of deliberately limiting supply to raise prices for its products.
"We believe the decision to shut the Eden facility and eliminate approximately 10 percent of MillerCoors' U.S. production capacity is driven by Molson Coors as a strategy to cut capacity and raise prices in the U.S. market," he wrote. "We are further convinced that the decision to close Eden is merger-related and was timed to avoid regulatory scrutiny during the federal government's antitrust review of the proposed Anheuser-Busch Inbev and SABMiller merger, and the related sale of SAB's stake in the MillerCoors joint venture to Molson Coors."
Hoffa called on MillerCoors' leaderships to meet with David Laughon, the Teamsters' Brewery Conference Director, but did not say what the union would do if the company refuses to reverse its position.
Local-Level Brewers Associations Arise in Colorado and Tennessee
Two new craft brewery advocacy groups have emerged in Colorado and Tennessee, but not to compete with the established state-wide associations in either region.
While the Colorado Brewers Guild and Tennessee Craft Brewers Guild each represent the rights and interests of breweries across the two states, the newly-formed Southern Colorado Brewers Alliance and Knoxville Area Brewers Association aim to focus on the needs of local brewers at the community level.
In an interview with the Colorado Springs Independent, Todd Baldwin, president of SCBA and founder of Red Leg Brewing, said the group hopes to advocate for craft breweries operating in the the state's El Paso, Teller, and Pueblo counties. The Alliance hopes to advocate for its members throughout local governments where the breweries are located — much like the Colorado Brewers Guild and the Brewers Association do at state and national levels.
"Our elected officials know the economic value of breweries in our community — not just as sales tax generators, and through creating jobs, but our philanthropy, and how much we give back to nonprofits," Baldwin told the outlet. "As we talk about supporting small businesses and changing the culture of our city, we feel breweries are a good place to start."
In Tennessee meanwhile, and after a year of exponential craft brewery growth in the Knoxville area, the city's brewers have come together to promote craft by forming the Knoxville Area Brewers Association.
"We all know that the more breweries that come online, the more competition exists," said Adam Palmer, president of KABA and founder of Saw Works Brewing Company, in an interview with local NBC outlet WBIR. "However, growing the awareness of the craft beer scene – there's strength in numbers."
Knoxville is currently home to 11 breweries, 9 of which have opened or began to build their operations within the last year.
Penn Students Develop Concept To Shorten Brewing Process
Breweries may soon have access to commercial technology that could reduce fermentation periods down to a week or less.
A group of Penn students won the school's prestigious $10,000 Y-Competition Grand Prize this week for their proposed business, Fermento. The student's developed proprietary microfluidics technology that shortens fermentation periods by increasing the surface area of liquid sugars exposed to the yeast.
"There is only a certain amount of yeast cells one can directly add to a batch reactor," said Shashwata Narain in an interview with the Penn Current. "Because overpopulation causes physiological stress on the yeast cells, which in turn reduces reaction rate. It takes time for yeast cells to grow and reach a critical mass to produce enough beer. Moreover, the concentration of sugar available to yeast cells is limited because in a large batch solutions, yeast cells don't consistently interact with sugar molecules."
Fermento technology ferments beer by introducing precise amounts of liquid sugars directly to individual yeast cells — reducing stress levels from lack of food.
The process could reportedly reduce a fermentation period up to 70 percent.
Shock Top Teases Super Bowl Ad
It's almost Super Bowl Sunday and that means the inevitable weeklong lead-in featuring borderline offensive pregame predictions and commercial teasers from every SB 50 advertiser hoping to stretch their dollar. By the time Feb. 7 rolls around, we probably won't even want to watch the game
A-B InBev's Shock Top brand, a first-time advertiser, this week released an extended 90-second cut of its debut ad. "Unfiltered Talk" with HBO's Silicon Valley star, T.J. Miller, features Shock Top's now signature talking orange slice and some witty banter with the comedian.
Since we know you've got FOMO and you can't wait till next Sunday, check out the ad below.