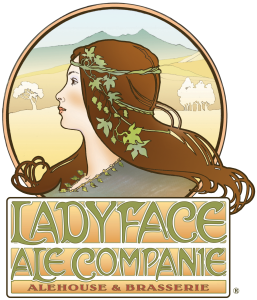 AGOURA HILLS, CA – Ladyface Ale Companie, the Conejo Valley's first craft brewery and gastropub, brought home medals once again from the 15th Annual Los Angeles International Beer Competition. Founded by locals at the foot of Ladyface Mountain, the brewpub, Ladyface Alehouse & Brasserie, has been serving locally hand-crafted beer and food since 2009, but it has had a broad-reaching impact on the greater Los Angeles community as a destination spot for craft beer enthusiasts.
The Annual Los Angeles International Beer Competition took place earlier this month at the Pomona Fairplex, at which breweries compete against each other for a medal in their respective category of beer. An esteemed panel of 100 judges used a blind-tasting method to award medals to the best beers in their class with 1,098 total entries in 88 different categories. This year's winners include two Silver medals: one for Ladyface® IPA in the category of English-style IPA and one for Conejo Lager in the category of German-style Marzën. Ladyface also won the Bronze medal for Verrückt Weizen, a barrel-aged dark wheat ale, in the Wood and Barrel-aged Sour category. A week later it was also awarded a Bronze from the San Diego International Beer Competition in the Sour Beer category. All three beers are currently on tap at the brewpub in Agoura Hills.
Co-Founder and Proprietor Cyrena Nouzille said, "David Griffiths is a very talented brewer. We are thrilled with our success at the competitions and extend our congratulations to the other winning breweries!"
Last year at the same competition, Ladyface won the Gold medal for Trébuchet® in the category of American Sour Ale while Brett Blossom was awarded a Silver medal for American-style Brett Ale; Chesebro IPA won a Bronze in the highly-competitive Imperial IPA category.
Both Chesebro IPA and Ladyface® IPA are distributed by Stone Brewing Company and available in other bars and restaurants throughout Los Angeles and from Santa Barbara to San Diego Counties.
About Ladyface Ale Companie
Ladyface Ale Companie was established in late 2009 along with its restaurant Ladyface Alehouse & Brasserie. Named LA Weekly's 2013 Best Brewery in LA, and an international RateBeer.com Best Brewpub, Ladyface is known for their award-winning Belgian, French and American style ales.  La Blonde, La Grisette, Blind Ambition Abbey Ale, Trois Filles Tripel, and seasonal ales such as La Trappistine® Belgian Dark Strong Ale, Blue-Belly Barleywine and Dérailleur® Bière-de-Garde are brewed onsite. Ladyface is one of the first revival craft breweries in Los Angeles County, and the first brewery in the Conejo Valley. Visit www.ladyfaceale.com for more information on Ladyface beers, tours and special events.