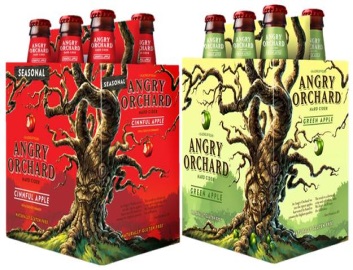 NEW YORK — JetBlue today announced that Angry Orchard Crisp Apple – the number one selling hard cider in the U.S.[1] – will be available on all its flights in 12oz cans. Hard cider has recently come back in a big way here in the US and continues to grow in popularity, and for the first time, JetBlue customers will be able to enjoy it up in the sky.
"Here at Angry Orchard, we have been experimenting with cider recipes for twenty years," said Angry Orchard Cider Maker David Sipes. "Angry Orchard Crisp Apple, the only hard cider available on JetBlue, is crisp and refreshing. It mixes the sweetness of apples with a subtle dryness for a well-balanced cider, perfect to enjoy on the ground or 35,000 feet in the air."
To help celebrate this launch, Angry Orchard and JetBlue hosted a cider tasting event in Jet Blue's state-of-the-art Terminal 5 at JFK airport in New York last week. Eligible JetBlue customers sampled the cider and learned about the craftsmanship that goes into each batch of Angry Orchard, from apple to glass.
"At JetBlue we strive to offer something unique to our customers and we are excited to be the only U.S. airline to offer cider onboard. Angry Orchard Crisp Apple is a refreshing alternative to our craft beer or wine selection and we know our customers will appreciate and enjoy our latest offering," said Jamie Perry, vice president, brand and product development, JetBlue.
For two decades, the cider makers at Angry Orchard have traveled around the world in search of the perfect ingredients for cider making. It's that commitment to innovation and sense of exploration that makes JetBlue and Angry Orchard an ideal partnership, encouraging passengers and drinkers alike to branch out.
Angry Orchard Crisp Apple is now available on all JetBlue flights, both domestic and international, in 12oz cans. You can find Angry Orchard hard ciders nationwide, available in bottles, on draft and in cans. Cans, like those served on JetBlue, are perfect for drinking occasions that require the convenience of drinking from a can, like tailgating, picnics and barbeques. For more information about JetBlue, visit: www.jetblue.com. For more information about Angry Orchard Hard Cider, visit: www.angryorchard.com.
About Angry Orchard Cider Company
Angry Orchard Cider Company's cider makers have been experimenting with apple varieties and unique flavors to develop hard cider recipes for 20 years. The cider makers have travelled the world to find the best apples for cider making and chose specific varieties, like French bittersweet apples from Normandy and culinary apples from Italy and the United States, based on each cider's flavor profile. It takes two apples to make each bottle of Angry Orchard, and some ciders are aged on oak before bottling for additional complexity and balance. Angry Orchard makes a variety of year-round styles, including Angry Orchard Crisp Apple, a crisp and refreshing fruit-forward cider that mixes the sweetness of culinary apples with a subtle dryness from bittersweet apples for a balanced taste. Angry Orchard also makes The Cider House Collection specialty ciders, as well as a variety of seasonal ciders.
About JetBlue Airways
JetBlue is New York's Hometown Airline™, and a leading carrier in Boston, Fort Lauderdale/ Hollywood, Los Angeles (Long Beach), Orlando, and San Juan. JetBlue carries more than 32 million customers a year to 87 cities in the U.S., Caribbean, and Latin America with an average of 825 daily flights. Upcoming destinations include Cleveland on April 30; Reno-Tahoe, Nev. on May 28; and Grenada on June 11, 2015 (subject to receipt of government operating authority). For more information please visit jetblue.com.