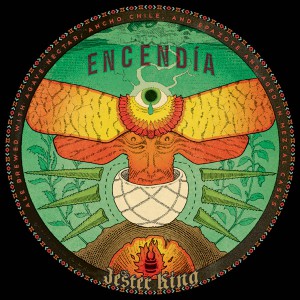 Austin, TX — We're excited to announce that this Saturday, February 21st from 1pm to 4pm at West Lakeview Liquors, we'll be having the Chicago release of Encendía — our Mezcal barrel aged farmhouse ale brewed with agave nectar, epazote and ancho chiles. Encendía was brewed in collaboration with our dear friend Kristina Bozic, owner of West Lakeview Liquors, to celebrate the 25th year anniversary of her store. Jester King founders Jeffrey Stuffings and Michael Steffing will be on hand for the release.
The release will include bottles for sale (limited quantities) of Encendía, Le Petit Prince, Noble King, Das Wunderkind, Mad Meg, Wytchmaker, El Cedro, Gotlandsdricka, Ambrée, and Snorkel. Jester King glassware for Colour Five, World's Worst Twin, Provenance, Kollaborationsbier, Detritivore, and Natural Union will also be for sale. Jeff and Michael will be pouring samples of Jester King beer during the release.
Encendía is now over two years old, having been brewed in January of 2013 at Jester King. It was aged in Mezcal casks for about a year, then bottled in March of 2014, and initially released at Jester King in May of 2014. The Chicago release at West Lakeview Liquors probably would have happened sooner, but there was a long delay in getting Encendía approved by the Alcohol and Tobacco Tax and Trade Bureau (TTB) due to our use of epazote in the recipe. We are quite happy with how Encendía has matured over the years, and think you will enjoy it. Encendía is 11.1% alcohol by volume, 3.4 pH at the time of bottling, and has a finishing gravity of 1.000.
Like we mentioned, we're really excited to have the Chicago release for Encendía at West Lakeview Liquors. Kristina Bozic is one of the people who inspired us along the way and helped us get our brewery off the ground. It was an honor to brew with her, especially in light of her store's 25th year anniversary. We hope to see you in Chicago on Saturday!