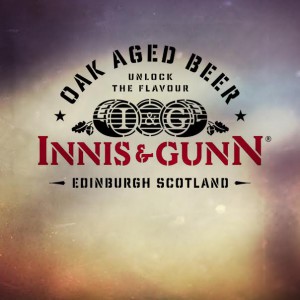 Edinburgh, Scotland – Scottish independent brewer Innis & Gunn has announced the appointment of Neil Innis Sharp as General Manager – USA. The Edinburgh based company has maintained a relationship with Sharp, brother of Innis & Gunn's Founder & Master Brewer, Dougal Gunn Sharp, since 2007 when he was instrumental in the brand's launch and early success in its largest export market, Canada. He also went on to help develop Innis & Gunn's business in Sweden, where the brand is now the top imported ale in the market. As a long standing supporter and advocate of the company, Neil's return is welcomed wholly by the team at Innis & Gunn and by his brother, Dougal.
"Neil has a wealth of experience in the drinks business and was integral to our early launch of Innis & Gunn into the Canadian and Swedish markets. His appointment comes at a time when we are gearing up for a period of accelerated growth in the US. It's a hugely competitive market and Neil will be instrumental in driving our business strategy with the support of our newly appointed importer United States Beverage. It's an exciting time for the brand and I am thrilled to have my brother back on board," Dougal Sharp commented.
Neil returns to Innis & Gunn from leading global drinks business Pernod Ricard, where he worked in various strategic consumer marketing roles within their European Travel Retail division. The brands he worked with include Chivas Regal, The Glenlivet, Jameson Irish Whiskey, Absolut Vodka and Beefeater Gin. Sharp delivered brand growth, innovation and consumer activation programs for these successful brands. Sharp will work closely with I&G USA Managing Director, Dan Deluca and newly appointed importer United States Beverages on an accelerated growth program to further develop and strengthen Innis & Gunn's position in the US market.
"Innis & Gunn is a truly entrepreneurial business and I am incredibly proud of the huge success my brother and the team have achieved to date. The company is renowned for its brewing quality and craftsmanship and is fast becoming a global success story. I am delighted to return to the business at a time when craft beer has never been more popular or exciting, to help strengthen our position in the USA, a leading craft beer market," Neil Sharp added.
About Innis & Gunn:
Established in 2003, Innis & Gunn has won a multitude of awards for its unique range of oak-aged beers and its recently-launched unoaked Scottish lager. With a turnover of £11.8 million in 2014 and 30% average annual growth over the last 2 years, the brewer has shown it has as good a nose for business as it does for beer.
Available in over 20 countries, Innis & Gunn is the second-biggest supplier of specialty beer to the UK off-trade, the top imported Ale brand in Sweden and the best-selling British Bottled Beer brand in Canada. The company employs 50 people globally and has been recognised for its contribution to industry by winning the IGD Outstanding Small Business of the Year Award in 2013 and collecting two Queen's Awards for Enterprise in International Trade.