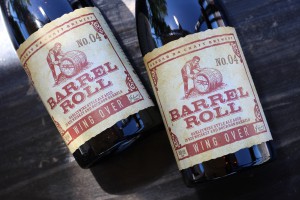 Redlands, CA – Hangar 24 recently renamed their American Barleywine to Wing Over. Due to a potential conflict with another beer's name, Hangar 24 Craft Brewery decided to maintain their aeuronatic appeal by renaming their beer to Wing Over: a maneuver involving a steep climbing turn to a near stall, then a sharp drop of the nose, a removal of bank, and a leveling off in the opposite direction.
Previously known as Hammerhead, this big beer boasts an 11.2% ABV complimented by two English caramel malts and four American hops. Wing Over's character is enhanced through dry hopping & aging the deep amber liquid for six months in charred oak rye whiskey and bourbon barrels. Spicy aromas spill from the glass: rich caramel, citrusy, hops, bourbon, and oak. Layered flavors of toffee, vanilla, brown sugar, spice, and rye whiskey lead to a warm slightly bitter finish. This is a strong ale, meant to be sipped, savored and enjoyed.
This beer is currently available throughout Southern California and the Redlands Tasting Room.
About Hangar 24 Craft Brewery:
Hangar 24 Craft Brewery was founded in 2008 across from the Redlands, California airport. Widely known for their flagship beer, Orange Wheat, the brewery takes its name from the hangar in which Founder and Master Brewer Ben Cook and his fellow pilots would meet up with family and friends after a day of flying. They would share stories, barbecue, play music and enjoy Ben's latest batch of homebrews. Hangar 24 Craft Brewery embodies that spirit: good beer, a love of flying and the pure enjoyment of being among good friends.