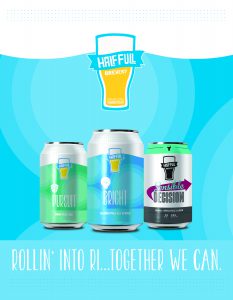 Stamford, CT – Half Full Brewery ("Half Full") of Stamford, CT is happy to announce the signing of a distribution agreement with McLaughlin & Moran, Inc. ("M&M") who will carry the brand in the state of Rhode Island.
The expansion into Rhode Island is Half Full Brewery's first new distribution agreement in 2017 in what's expected to be a series of new market launches throughout the year.
"We've had our eye on Rhode Island for a while now," says Conor Horrigan, Founder & Chief Hoptimist of Half Full Brewery. "From the beers we brew to the events we put on to the lifestyle we represent, so much of what we do here at home taps into that same coastal and urban ethos you see in Rhode Island, and we couldn't have picked a better partner than McLaughlin & Moran to help us navigate the market. We're very impressed with their ability to execute; they truly care about the brands they bring on board."
"Complementing McLaughlin & Moran's deep portfolio of established beer brands, we're very excited and proud to have been chosen to distribute Half Full Brewery in Rhode Island. We're excited about their team as well as their innovative and ever-changing portfolio and we are looking forward to a lasting relationship going forward," says Dave Plummer, High End Brands Manager of McLaughlin & Moran, Inc.
In conjunction with the rollout into Rhode Island, Half Full Brewery is happy to announce the rollout of all new packaging designs for its core products.
"Under the direction of our Brewmaster Tom Price, we've spent the last 12 months reworking and updating recipes as well as adding and removing styles from our ever-evolving offering of beers," says Jordan Giles, Director of Branding & Customer Experience at Half Full.  "When Tom came on board last year, he really upped the ante on the liquid side, helping us realize we needed to elevate the branding. Our new look and feel reflect the time and effort we've put into both the beer and the packaging. We're really happy with the result."
Included in the new designs are Bright (Blonde/Pale Hybrid), Pursuit (IPA), and a completely new offering yet to be released, Refresh – a Rotational Pale Ale that will feature new hop varietals in each batch. The newly designed cans will make their debut in Rhode Island with McLaughlin and Moran's Half Full launch this month, and will roll out to all existing markets just ahead of Memorial Day Weekend.
About Half Full Brewery
At Half Full Brewery, we have three simple, albeit lofty goals: constantly make beers and experiences that people can look forward to; inspire people to find optimism through those beers and experiences; and to make the place that we work representative of our name. Want to learn more? Visit our Stamford, CT facility, listen in on our Podcast, or check us out on the web at halffullbrewery.com and @halffullbrewery on Instagram, Facebook, and Twitter.
About McLaughlin & Moran, Inc.
Located in Cranston, RI, McLaughlin & Moran, Inc. prides itself in marketing, warehousing and delivering a world class portfolio of beer, wine, spirits and non-alcoholic beverages throughout the entire state of Rhode Island. Founded in 1936 by first cousins John J. McLaughlin and John E. Moran, we are now a third-generation Rhode Island family business committed to providing great products and service to our customers. The owners of the company also take great pride in being a responsible and generous corporate citizen as evidenced by McLaughlin & Moran's support of scores of charitable organizations. http://mclaughlinmoran.com/