Add Founders Brewing to the growing list of craft breweries now producing more than 100,000 barrels annually (there's 30 of them).
The Grand Rapids, Mich,-based brewery cranked out 111,000 barrels in 2013, a 63-percent uptick from the 70,800 it produced in 2012. In fact, over the last six years, Founders has averaged a compounded annual growth rate of 63 percent.
Driving much of that growth was the company's flagship brand, All Day IPA, which now accounts for 27 percent of the company's overall production volume, co-founder Mike Stevens wrote in a year-end review.
"Looking back, no doubt, the coming out party for All Day IPA drove another strong year for Founders," Stevens wrote in a year-end review summary. "We fully expect an exceptional year for this brand and look for it to be the industry leader in the session ale segment."
Stevens said he expects All Day IPA production to account for 35 percent of the company's total volume by the end 2014.
Session ales — beers with lower alcohol percentages — are gaining in popularity as both craft brewers and consumers gravitate towards more quaffable offerings. Brewers welcome the chance to sell larger quantities at high margins while consumers appreciate the ability to imbibe on a few more flavor-forward libations than they might on ordinarily.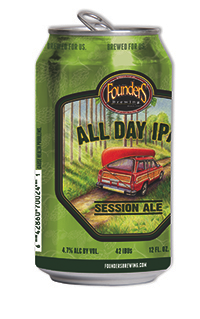 It's that intersection of volume and margin that has prompted larger craft companies like Founders, Lagunitas Brewing and Alchemy & Science — the wholly-owned subsidiary of Boston Beer Company — to place greater emphasis on growing the session beer category.
The increased selling efforts helped Founders achieve grow the All Day IPA brand 569 percent in 2013.
But session isn't the only area of the Founders portfolio that is growing. Higher ABV offerings like Centennial IPA, Dirty Bastard and Breakfast Stout accounted for nearly 53 percent of the company's total production volume in 2013. Centennial IPA grew at a 16 percent clip while Dirty Bastard and Breakfast Stout grew 32 percent and 42 percent, respectively.
So where is that growth coming from? Stevens said the company's chain business — which was up 56 percent in 2013 — was one of the largest contributors of growth and will continue to be a primary focus in 2014
"Chain business remains strong and continues to be an important part of our total growth," he wrote. "Following up strong triple digit growth like we had at Meijer in 2012 with more incremental volume is very difficult to do and a testament both to Meijer's commitment to our brand as well as the continued strength of the Founders name 17 years in. We are also seeing success with some on-premise chains such as Buffalo Wild Wings here in Michigan and Applebee's. Look for much stronger chain growth in 2014 as we now have the capacity to pursue the opportunity in an even more aggressive fashion."
Founders will look to sell 180,000 barrels in 2014, Stevens said. Other highlights from the brewery's year-end recap are included below:
Full-year existing markets grew volume at 43 percent for the year.
New markets were 18 percent of year-to-date volume and 32% of Founders' year-to-date growth.
Overall points of distribution grew 51 percent over 2012.
Sales in the Midwest, Northeast and Southeast grew 34 percent, 89 percent and 1001 percent, respectively.
Off-premise sales were up 46 percent and on-premise distribution grew 58 percent
Sales of "Porter" were up 41 percent, the second-fastest growing brand next to All Day IPA.