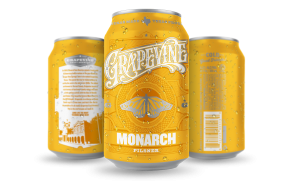 Grapevine, TX – Monarch, formerly a filtered wheat beer, was one of the first beers released by Grapevine Craft Brewery in 2014 as one of our core year-round brands. The intention of the beer was always to be our lighter fare option, sessionable, clean and easy to drink. We chose a filtered wheat beer for a couple of reasons. One, it's unique and there are not many examples of kristalweizen style beers in our local market. And two, there are plenty of blonde ales around Texas…we didn't want to throw our hat into that bag. And for the most part, the brand has been well received. In fact, sales volume grew over 100% in 2015 over 2014 sales.
The problem, however, is that there has always been some amount of confusion for consumers. Typically, we found that wheat beer fans were generally underwhelmed by the brand because their expectations are typically more aligned with a hefeweizen style, cloudy, more body and lots of wheat and ester character, none of which describes Monarch. Conversely, our target market for the brand, consumers searching for something light, crisp, sessionable and approachable would tend to shy away because it was a "wheat" beer. To combat those fears, we've always marketed Monarch as "a wheat beer that drinks like a pilsner." And in fact, it was. And for people who got the message, we gained loyal drinkers.
So, we've decided to give our fans what they really want and take the guesswork out of it. The wheat beer that drinks like a pilsner is now…..wait for it — a Pilsner! Genius.
We've been asked, why are we still calling the beer Monarch and not changing the brand. And the answer is simple. The beer we're making today is the beer that we've been working towards for a long time. While much has changed in how we make the beer from the malt we use, to the yeast, the changes in the final product are actually quite nuanced. And frankly, we feel it's a more honest approach to the way we portray the brand and much less confusing than trying to explain a filtered wheat beer. We know that fans of Monarch are going to love this beer, at least we're certainly counting on it.
Nothing fancy, just good. Our Monarch is a refreshing pilsner, light bodied and slightly hopped for a perfect finish. Our pilsner boasts a traditional German style with low hop aroma, a mild bitterness on the finish balanced by a nice Vienna malt backdrop.
The NEW Monarch Pilsner on draft should be hitting Texas taps around March 1st and our new cans should be hitting shelves the week of March 14th. We gave the cans a complete redesign so there's sure to be no confusion on the shelf. Monarch fans will know that something's up!