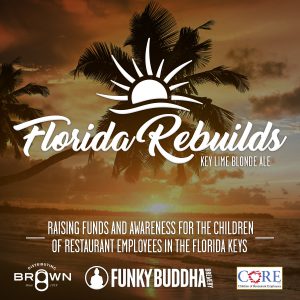 OAKLAND PARK, FL — It's been a month since Hurricane Irma ravaged the Florida peninsula, and its effects are still being felt, particularly in the Florida Keys. It's for that reason that South Florida's own Funky Buddha is proud to announce that it is partnering with Children of Restaurant Employees (CORE) to release Florida Rebuilds, a pale blonde ale brewed with key lime juice that will generate much-needed funds for Hurricane Irma victims in the service industry and their children. Funky Buddha and Brown Distributing of West Palm Beach will release draft kegs of the beer for sale to retailers throughout Southeast and Southwest Florida, Tampa, and the Florida Keys starting next week. Each company will donate 100% of its sales of the beer directly to CORE. In addition, Funky Buddha will donate 100% of sales of Florida Rebuilds sold in its tap room starting on October 13th, and engage in a statewide effort to raise awareness and funds for CORE.
"We've been incredibly encouraged by the many amazing hurricane relief efforts going on right now across the state, and knew from the get go that we wanted to participate in a unique and meaningful way," says KC Sentz, Funky Buddha Brewery's General Manager and Co-Founder. "In working with CORE, we feel like we can make a significant impact in the lives of folks who are still reeling from Irma and may be for some time to come."
Funky Buddha brewed this crisp blonde ale with key lime juice as an ode to the resilient spirit of the keys. At 5% ABV and brewed with tropical-tinged citra hops, this sessionable beer is also evocative of the land we all know and love.
The devastation wrought by Hurricane Irma has been severe, but it also hits especially hard for those families whose breadwinners work in the service industry. Although the keys are beginning to reopen for business, countless restaurants, bars, resorts, and hotels will be impacted by the loss of tourism dollars brought on by the storm. That's where CORE comes in. The 501c3 organization grants support to children of food and beverage service professionals navigating life-altering circumstances. Funds generated by the Florida Rebuilds beer and program will go exclusively towards Hurricane Irma victims and their children struggling with expenses such as food, rent, utilities, medical bills, and more, all with zero administrative costs. Constellation Brands, Inc. which acquired Funky Buddha Brewery in August of this year, has pledged to match up to $50,000 in funds raised through the Florida Rebuilds program.
"CORE is honored to partner with Funky Buddha on Florida Rebuilds," says Lauren LaViola, Executive Director of CORE. "As we come together to give back to our own, we recognize that the food and beverage service industry is more like a giant family that spends its days committed to serving others. We are honored to be part of the effort to return the favor in service and look forward to using 100% of funds donated through Florida Rebuilds to grant support to food and beverage service employees and their children in Florida."
The Florida Rebuilds effort will not stop there. Through raising awareness for the program, Funky Buddha hopes that impacted service industry workers with children will hear about CORE programs and apply to receive aid themselves. Retailers across the Southern and West coasts of Florida who are interested in purchasing draft kegs of Florida Rebuilds and/or pledging a donation to CORE can learn more at http://funkybuddhabrewery.com/floridarebuilds. And for consumers looking to make a difference, Funky Buddha will provide a complete list bars and restaurants serving Florida Rebuilds on the same webpage so they can head to the bar and do their part.
In times of crisis, the entire community must get involved to help those in need. Together we believe we can make a strong impact on this vital relief effort and raise some fantastic awareness in the process. Here's to rebuilding Florida, one pint at a time.
ABOUT FUNKY BUDDHA BREWERY
Founded in 2010 in Boca Raton, Florida, Funky Buddha Brewery® is committed to producing bold craft beers that marry culinary-inspired ingredients with time-honored  technique. Its lineup includes year-round brews Floridian Hefeweizen and Hop Gun IPA, along with specialty releases such as Last Snow and the highly sought after Maple Bacon Coffee Porter. Its Oakland Park production brewery opened in June 2013 and distributes draught and bottled beer to retail outlets throughout Florida.

ABOUT CORE
CORE is a national 501c3 organization that grants support to children of food and beverage service employees navigating life-altering circumstances. Since 2004, CORE has raised over $2.5M and granted support to almost 300 families across the industry and the country. For food and beverage service employees, a life-altering circumstance like a medical diagnosis, a car accident, or a house fire can quickly become unmanageable financially and emotionally. Luckily, for those employees caring for children, CORE can help.
When food and beverage service families struggle to stay afloat during a medical diagnosis or family death, accident, or loss of home from fire or natural disaster, CORE helps them stay on top of house payments, bills, and medical or equipment costs. CORE can also purchase clothing and toys, or send food and other necessities. When a parent or child passes away, CORE can pay for a funeral or memorial, or help plan a family retreat to recenter and grieve. CORE knows that the core of the food and beverage service industry is the food and beverage service employees and the families they work to support, and the core of the families is the children.
ABOUT BROWN DISTRIBUTING
Since 1919, Brown Distributing Company has grown into a beverage distribution business with combined sales of over 11 million cases annually and serving in excess of 6,000 retailers with over 500 employees. It operates from Richmond, Virginia and West Palm Beach, Florida.