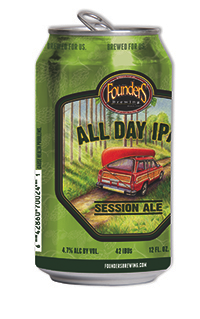 Founders Brewing yesterday announced plans to expand distribution to New Mexico, signing with Premier Beverage for coverage throughout the state.
"We're thrilled to work with Premier Beverage to offer Founders for the first time in New Mexico," co-founder & CEO Mike Stevens said in a press release. "The addition of new markets is always exciting, and New Mexico affords us a great opportunity to reach a new audience of beer enthusiasts."
In the statement, the Grand Rapids, Mich.-based beer company said it plans to launch product in New Mexico as early as October. Founders' year-round lineup, as well as seasonal offerings ( in bottles, cans and kegs), will be the first to hit the market. Limited releases "may" follow shortly after, the company said.
With the addition of New Mexico, Founders' beer will now be sold in 35 states and in Washington D.C. In June, the company expanded distribution to North Dakota and South Dakota.
Currently ranked as the country's 17th largest craft brewery, Founders sold 193,000 barrels of beer in 2014, up 74 percent over the year prior, according to the Brewers Association. The company is currently on pace to sell 270,000 barrels in 2015.