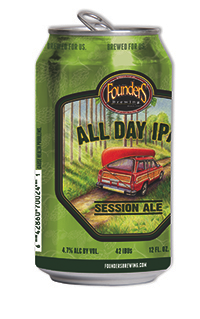 Founders Brewing refuses to take its foot off the gas pedal.
After announcing expansions into Tennessee, Arkansas, Oklahoma and Louisiana earlier this year, the Michigan-based company today said it will launch with Hensley Beverage Company in Arizona next month.
"Arizona is our first truly western state of distribution," co-founder and CEO Mike Stevens said in a press statement. "There are a lot of Michigan natives in Arizona, and it's a state with a developing craft beer scene, so it made sense for us to open it this spring."
The brewery has grown at a torrid clip since 2008, when it brewed less than 12,000 barrels of beer. In 2013, that number grew to 111,000 barrels, 63-percent more beer than the company made in 2012.
Founders executives credit much of that growth to the emergence of its sessionable flagship, All Day IPA, which now accounts for 27 percent of the company's overall production volume.
"Looking back, no doubt, the coming out party for All Day IPA drove another strong year for Founders," Stevens wrote in January. "We fully expect an exceptional year for this brand and look for it to be the industry leader in the session ale segment."
Stevens said he expects All Day IPA production to account for 35 percent of the company's total volume by the end 2014.