In an effort to establish itself as a longstanding, multi-generational craft brewery, Founders Brewing today announced it would sell a minority interest to Mahou San Miguel, Spain's largest brewer.
The Michigan-based craft beer company, which is in the midst of a multi-year stretch of torrid growth, announced Wednesday it would sell a 30 percent stake to the international beer company.
Though specific terms were not disclosed, a source familiar with an information packet prepared by Founders' bankers, said the investment could be as much as $90 million, citing 2014 EBITDA estimates of $20 million. The transaction is expected to close in January 2015.
Projected to brew 207,000 barrels in 2014, Founders currently distributes its products in 32 states and 12 countries. It recently embarked on a $40 million, debt-funded expansion project that will increase its capacity to 900,000 barrels.
In a conversation with Brewbound, CEO and co-founder Mike Stevens described the decision to sell a minority interest as one that would enable Founders to "ensure a legacy" and allow the company to "create a multi-generational brewery."
"Right now, the craft industry is at a hyper pace and garnering attention that is, perhaps, unprecedented," he said. "Now is the best time, in my mind, to identify what you want for the future of your brand and go get it. For us that meant protecting the values of our business, protecting the culture of Founders, protecting the product and the future."
According to Founders, the minority ownership will enable the company to offer longstanding shareholders a chance to capitalize on their investment.
"Many of our early investors are aging, and we believe it's fair that they have the opportunity to realize a portion of their significant investments in the brewery," Stevens and co-founder Dave Engbers wrote on the company website. "This is our way of saying thank you for their loyal support over the years."
So what attracted Founders to an international strategic buyer like Mahou? Stevens pointed to the company's history, one that spans 125 years and seven generations.
"For us, it really, truly boiled down to the legacy of a brand and ensuring that we could someday see our kids running a brewery," said Stevens. "In our meetings, they [Mahou San Miguel Executives] would honestly ask me 'are your kids going to work at the brewery? Because that is important us.' Private equity doesn't ask you that."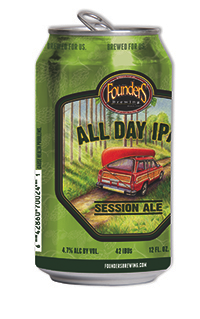 The opportunity to expand the Founders brand internationally also played a role in the decision, Stevens said.
"For our company to move 50 years forward or 100 years forward, and for our children to continue working here and see this thing go on for generations, a global look is needed," he said.
Mahou San Miguel, which controls 37 percent of the Spanish beer market, produces 75 percent of all Spanish beer exports. In recent years, the company has developed a knack for acquisition abroad: In 2000, Mahou acquired San Miguel, a company founded in Manila in 1890. In 2004 it acquired the Canary Islands' Cervezas Anaga and in 2012 it acquired 50 percent of India's Arian Breweries & Distilleries, completing the acquisition earlier this year.
"We see our investment in Founders as a great source of learning, innovation and transformation for Mahou San Miguel in the hugely attractive and innovative market that USA represents, which is indeed the beer market of more value worldwide. A market which sets consumer trends, with huge prospects for growth to which our company and our brands have much to contribute," Javier López del Hierro, president of Mahou San Miguel said in a press statement.
Mahou San Miguel produced more than 10.4 million barrels of beer in 2012, with revenues exceeding $1.4 billion.
Although Stevens declined to comment on the specifics of the transaction, he did confirm that Founders had conversations with multiple interested buyers prior to the deal.
"We were going down this path and, as you start looking for a partnership, word gets out quick," he said. "There was some light discussion with a lot of folks in the strategic world, the private equity world and in the family-office world. We didn't set out to sell. We set out to find a partner that could help us carry it [the business] forward long after we're gone."
While the company spoke to plenty of interested private equity buyers, Stevens said, "It's just not where we wanted to hang out hats at the end of the day. Our brand wouldn't achieve the goals we want it to achieve if we put it in the hands of bankers. They are doing exactly what they should be doing within their industry — creating value for their shareholders. There is nothing wrong with that, but when you are looking to find a partnership that can solidify the future of your brands…you can't find that in private equity."
The deal is just one more confirmation of the increased role of investment activity in the craft space in 2014. Including today's announcement, there have now been eight different transactions involving craft brewers. Three craft beer companies – Uinta Brewing, Sweetwater Brewing and Southern Tier Brewing – sold at least a minority interest to private equity. Anheuser-Busch InBev acquired two companies — 10 Barrel Brewing and Blue Point Brewing. Green Flash Brewing purchased 3,000-barrel Alpine Beer Company and Harpoon Brewery sold 48 percent of its shares to an employee stock ownership program.
That activity, Stevens said, should spell opportunity for others in the space.
"I think right now, timing wise, you have a lot of people looking into this industry and a lot of people trying to get into this space," he said "You have the ability to speak to folks that you feel would be best qualified to achieve what you are trying to achieve. This industry is at a time in history where opportunity exists to etch in stone the future and legacy of your brand."
Robert W. Baird & Co. served as the financial advisor to Founders Brewing Co. in the transaction. Greenberg Traurig acted as the company's legal advisor.