There's just no slowing down Founders Brewing Company.
The craft brewery, which is based in Grand Rapids, Mich., has grown at a 67 percent compound annual growth rate since 2008, while its on-premise points of distribution are up 61 percent this year. Sales of All Day IPA, Founders' flagship brand, are up a remarkable 138 percent.
Based on 2013 sales, up 54 percent from the year prior, Founders reached production of 111,000 barrels and is the 26th largest craft brewery in the country, according to the Brewers Association.
With tremendous growth, however, comes the need for additional space. As a result, Founders Brewing co-founder and CEO Mike Stevens has promised to complete an expansion that will take the company to about 600,000 barrels of capacity.
What that expansion will look like is still being decided. Moreover, Founders hasn't determined whether it will expand in its current footprint or if it will open a secondary brewing facility in another area of Grand Rapids.
"Our intent is to move fast, break ground in a couple of months and have it up and running by next April," Stevens told Brewbound. "We are looking at various 'addresses,' and will have a decision within the next few weeks."
One thing is certain: the company will not immediately look to build out of state.
"I think the western breweries look to build east because the eastern side of the U.S. is where most of the population and volume is," said Stevens. "For us to look west doesn't make much sense. If we ever get to the point where we are selling out west, I have to make sure that there is volume before we start building breweries."
Founders plans to spend upwards of $20 million to build out the additional space, financing the project through a combination of cash flow and bank debt. Although the exact specifics of the project won't be known until a final location is determined, Stevens did offer some insight into how the company is thinking about its expansion.
Founders currently produces its beer on two, 85-barrel brewhouses and a 30-barrel brewhouse, meaning it can make about 200 barrels of beer during each brewing session. The company will look to duplicate the current setup but has yet to select an equipment manufacturer.
"We have three bids out on the brewhouse side," Stevens said. "We will end up adding similar capacity, in a similar style."
Capacity in its current brewery footprint is capped at about 250,000 barrels, but modifications are being made next month, which will make the brewery more efficient and give Founders the ability to produce about 15 percent more beer, Stevens said.
The improvements couldn't come at a more opportune time. The company projected 2014 sales at about 200,000 barrels of beer, but through the first first half of the year, the brewery has been producing at a 250,000-barrel rate.
So how has Founders grown so rapidly? Aside from skyrocketing sales of its session-strength All Day IPA, Stevens credits much of the success to an "extremely buttoned up executive team" that is able to effectively executive sales and marketing initiatives while maintaining high profit margins.
"One of the key things we have been able to focus on, which has tremendously helped cash flow, is our revenue per barrel and EBITDA margins," he said. "It is our belief that we need to be financially sounds as things get more competitive. It is going to be harder and harder to win the race and a strong bottom line and healthy topline will be paramount if we want to survive."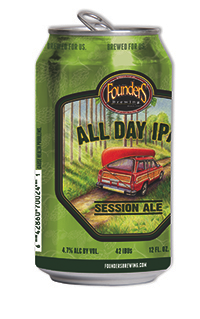 Using those guidelines as the basic framework for growth has allowed Stevens to focus his attention on long-term planning.
"I spent a lot of time strategizing our three-to-five year plans, what our future looks like and designing it accordingly," he said. "We plan and we stay laser focused on just three goals and trying to achieve those."
For Stevens, it's all about increasing points of distribution, controlling wholesaler inventories and ensuring a positive rate of sale.
And if Founders is executing those three things well, while also improving EBITDA margins and maintaining high revenues per barrel, it makes embarking on expansion projects much easier.
"When we go into any kind of capital investment, we look really long and hard at our ROI," he said. "We want to see paybacks in a handful of years, not decades."
Stevens said that more specific details about the expansion will be announced in the next two weeks.