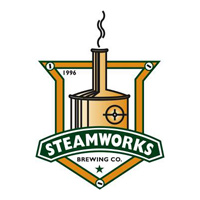 DURANGO, Colo. — A "devilishly good" firkin will be tapped Friday, Oct. 4, 2013, at 3 p.m., as Steamworks Brewing Co. continues its monthly showcase of unique hand-crafted beers, Firkin Friday.
For the October Firkin, Steamworks Brew Master and Certified Cicerone® Ken Martin has taken the brewery's seasonal Diablo Negro (regularly on tap through the fall) and kicked it up a notch in the firkin.
"The Diablo Negro is the base beer," said Martin, of the dark Belgian specialty ale. "It already has a rich caramel-like malt character with a tart finish and tropical fruit aromas. The ale is then re-fermented with black currants and dark sweet cherries, plus I've added a spice bag of coriander and allspice, and an oak wood spiral to enhance the impression of being barrel-aged."
A firkin is an old English unit of volume, typically a wooden cask equal to approximately one-quarter of a regular barrel, or nine/ten gallons. The word "firkin" is derived from the Middle Dutch word vierdekijn, which means "fourth" as in one-fourth the size.
In the United Kingdom, cask-conditioned beer, or a firkin, is known as "real ale," and to be authentic, cask ale must be kept at 'cellar temperature' — which is about 54 degrees — as it's conditioned in its cask.
"And that's what we do in the basement at Steamworks," said Steamworks Brewer and Certified Cicerone® Spencer Roper. "In cask conditioning, the yeast transforms the sugar into alcohol within the cask, and carbonation results from the trapped carbon dioxide occurring as a byproduct."
Firkin beer is unpasteurized and unfiltered and served at cellar temperature – cool but not cold.
"To those who know — and we're seeing an increasing number of sophisticated craft brew aficionados — firkin beer is complex and nuanced, with a delicate, natural carbonation," said Martin.
Steamworks initiated its Firkin Fridays to introduce unusual, specialty craft beers to patrons, and augment its regular, award-winning offerings. Steamworks, open 11 a.m. to closing seven days a week, is located at 801 E. Second. Ave., Durango (970.259.9200). For further information, visit www.steamworksbrewing.com.