Dec 4, 2014
San Diego, CA
Latest News from Brewbound Session San Diego 2014
We're pleased to announce that every speaker presentation and panel discussion from Brewbound Session Winter 2014 is now available for viewing on BevNET Food and Beverage University (FBU). This year's Brewbound Session video playback includes over five hours of insight into the marketing, branding and distribution of craft beer.
Twenty by '20 no doubt has a nice ring to it. In these parts, those figures are self-explanatory. In case you've had your head buried in the mash for a while, the mirroring numbers refer to the goal, as oft repeated by the Brewers Association, for craft to own 20 percent of the overall beer market by the year 2020. At last week's Brewbound Session, Craft Brew Alliance CEO Andy Thomas implored the industry, to think about the future, as he does, in terms of barrels.
We're less than 24 hours away from a sold out winter edition of the Brewbound Session, being held on Dec. 4 at the Paradise Point Resort & Spa in San Diego, and we've still got some final program notes to announce. Grab a beer – this one is jam-packed with updates.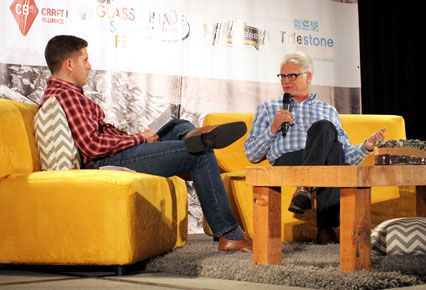 During last week's Brewbound Session in San Diego, Calif., Boulevard Brewing founder John McDonald confessed to the audience that, after 25 years in the beer business, he'd become somewhat disengaged. "I was a little bit a part of the problem to keep going and growing," he admitted.
In an effort to recognize the business initiatives of brewers across the U.S., Brewbound announced the first-ever recipients of the Brewbound Awards at its full-day conference held on Dec. 4 in San Diego, Calif.
Brewbound is pleased to invite all Brewbound Session attendees to the official Brewbound Session welcome reception on Wednesday Dec. 3, the evening before Brewbound's bi-annual business conference at the Paradise Point Resort & Spa in San Diego. Sponsored by Davis Wright Tremaine LLP and Moss Adams LLP, this year's welcome reception will be hosted at Modern Times Beer, located at 3725 Greenwood St., San Diego, Calif.