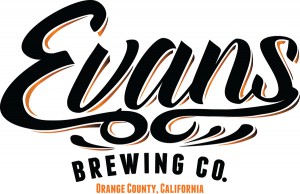 IRVINE, Calif. — Evans Brewing Company (OTCQB: ALES), the oldest craft brewery in Orange County, CA and owner of The Public House by Evans Brewing Co. in DT Fullerton, CA and soon to open at the Bella Terra Mall in Huntington Beach, has hired Peter Pallad, a former high end craft manager for an AB InBev owned distributor, to head up brewery sales. Mr. Pallad is an industry veteran with over 8 years in the craft beer industry selling craft beer in New York City.
"We are very fortunate to have Peter join our team at this juncture heading up our sales efforts in Orange County," stated Mike Rapport, CEO of Evans Brewing Co. "His unique experience selling craft brands, notably working with the Founders, Stone, Goose Island and others, gives us greater depth in our sales department at a critical point in our growth," continued Mr. Rapport. "With the previous addition of Kevin Hammons as our Director of Brewing, we now have Peter Pallad, an industry veteran, to head up sales of year-round offerings as well as the specialty beers that Kevin has planned in the coming months," concluded Mr. Rapport.
"I am ecstatic to join the likes of a Micah Schiesel from Golden Road, the brewing creativity of a Kevin Hammons from the Bruery, and the management team of Evan and Mike Rapport at Evans Brewing Co.," exclaimed Peter Pallad. "It's crazy, but my first job in the brewing industry was working out of this brewery many years ago; it is an unexpected homecoming for me," stated Mr. Pallad. "It is such a shock to see what the Rapports have done to breathe life into the brewery by rebranding it as Evans Brewing Co. Adding The Public House by Evans Brewing Co. has really helped spread the Evans brand; what a great move," continued Mr. Pallad. "I see nothing but opportunity for the Evans brand and I am proud to be a part of that," concluded Mr. Pallad.
"With Evans Brewing Co. aggressive growth strategy in Orange County, staffing up with industry veterans was essential to our growth strategy," added Mr. Rapport. "We have clearly outgrown what Evan and I could accomplish on our own. It has been a hard road to get to where we are today; the rebranding, constructing and opening The Public House restaurants and getting the Evans stock trading on the OTCQB, and most difficult surviving the fire. We are very happy and more than a bit relieved to have assembled such an impressive team to provide the additional leadership we need," concluded Mr. Rapport.
To see the full range of Evans branded products, including core year-round offerings, seasonal beers and special releases as well as The Public House menu, please visit http://www.evansbrewco.com.
About Evans Brewing Company, Inc.
Evans Brewing Company (www.evansbrewco.com) brews and distributes premium craft brands that have been honored with over 20 international awards. Operating the oldest brewery in Orange County, California, Evans Brewing supplies restaurants, retailers across 7 western states. The company also offers its ales and lagers, along with a comprehensive Gastropub food menu at its restaurant and tap room, The Public House by Evans Brewing Company. Potential future plans include additional brewing capacity, restaurants, broader product distribution, and an expansion of the beer brands currently under management. For more information, visit http://www.evansbrewco.com/thebeer#beer or email us at investors@evansbrewco.com.