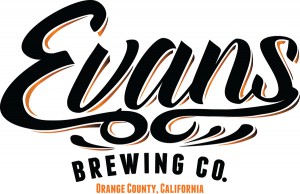 IRVINE, CA — Evans Brewing Company (OTCQB: ALES), a producer of award-winning craft beers and owner/operator of The Public House restaurant and tasting room, today announced a letter of intent to secure a site for the company's planned new Orange County brewery facility, which will provide greater production capacity to meet the anticipated future demand for Evans Brewing products.
Evans Brewing Company is expanding its footprint in its native Orange County, California, with the proposed new brewery site, the recent opening of The Public House restaurant and tasting room in downtown Fullerton, and its current brewing facility, Orange County's oldest craft brewery, located in Irvine. Current product distribution reaches well beyond Orange County, with retailers throughout California and in 6 additional states — Oregon, Washington, Colorado, Nevada, Arizona, and New Mexico.
"As the thirst for Evans Brewing Company's products grows, a larger brewing facility will be critical to keep up with demand," said Evan Rapport, Chief Operating Officer of Evans Brewing Company. "A larger brewing facility will help us to continue increasing the number of retailers, including restaurants, that carry Evans beers. Once final lease terms are negotiated and agreed upon, we expect development of the new brewery to begin."
Hughes Marino, Inc., an award-winning commercial real estate services company specializing in tenant representation, was retained earlier this year to locate and negotiate terms for the sale or lease of a new brewery building. First Key Consulting Inc., a leading global brewing industry consulting firm consisting of highly talented brewery consultants and malting experts, was engaged to conduct a technical assessment of the new brewery project including start-up, operating and supply chain requirements. Brewery construction services will be provided by The Marshall Group.
To see the full range of Evans branded products, including core year-round offerings, seasonal beers, and special releases, please visit http://www.evansbrewco.com/thebeer#beer.
About Evans Brewing Company, Inc.
Evans Brewing Company (www.evansbrewco.com) develops and distributes premium craft brands including a superior line of lagers and ales that have been honored with over 20 international awards. Operating the oldest brewery in Orange County, California, Evans Brewing supplies restaurants, retailers and beer drinkers across 7 western states. The company also offers a wide variety of its ales and lagers, along with a comprehensive food menu, at its restaurant and tasting room, The Public House by Evans Brewing Company (http://www.evansbrewco.com/pub/#thebrewery-1), located in downtown Fullerton, California. Potential future plans include additional brewing and tasting locations, additional restaurants, broader product distribution, and an expansion of the beer brands currently under management. For more information on our beers, please visit http://www.evansbrewco.com/thebeer#beer. For questions about the company, please email us atinvestors@evansbrewco.com.
Follow Evans Brewing Company:
Facebook – https://www.facebook.com/EvansBrewCo
Instagram – https://www.instagram.com/evansbrewingco/
Twitter – @EvansBrewCo
Forward-Looking Statements
This press release may contain statements, estimates or projections that constitute "forward-looking statements" pursuant to the safe harbor provisions of the U.S. federal securities laws. Generally, the words "believe," "expect," "intend," "estimate," "anticipate," "project," "will" and similar expressions identify forward-looking statements, which generally are not historical in nature. Forward-looking statements are subject to certain risks and uncertainties that could cause actual results to differ materially from Evans Brewing Company's historical experience and present expectations or projections. These risks include, but are not limited to, changes in general economic, business and political conditions, developmental delays or disruptions inherent with new products, and risks of reduction in revenue from the elimination of existing and potential customers due to consolidation or new laws or regulations affecting the craft brewing industry, and other risks detailed in Evans Brewing Company's filings with the Securities and Exchange Commission ("SEC"), including the "Risk Factors" sections of our filings, and subsequent SEC filings. You should not place undue reliance on forward-looking statements, which speak only as of the date they are made. Evans Brewing Company expressly disclaims any obligation or intention to publicly update or revise any forward-looking statements unless otherwise required by law.