Two weeks ago, I was sitting inside the brand new air-conditioned offices at Brewery Ommegang, escaping the heat at the company's annual Belgium Comes to Cooperstown beer festival and waiting for my usual visit with now-former Duvel Moortgat USA CEO, Simon Thorpe.
Now, anyone who has attended BCTC before also knows two things:
1.) Drinking beer next to a raging bonfire until 3 AM on Saturday morning is not only perfectly acceptable; it's practically a rite of passage.
2.) The Saturday morning wakeup call comes quickly when you're camping on the lawn in front of the brewery archway, which is, in some circles, appropriately known as "Tent City" during the three August days that Duvel allows brewers and beer enthusiasts to commandeer their sprawling 140-acre property in upstate New York.
To the best of my knowledge, Simon stopped roughing it in Tent City before I started attending the fest, but that never stopped him from conversing with fest-goers well beyond the midnight hour – something that most CEO's wouldn't do if they knew there was a cozy king bed awaiting them.
But no matter how late Simon stayed up on Friday night, he never missed our Saturday meeting. And this year, after initially being informed that Simon couldn't be located and wondering if our streak might be in jeopardy, Simon finally arrived.
Over the next 45 minutes, we discussed the Boulevard business, craft's rapidly changing trade dynamics, and the ways in which Duvel USA could continue growing during the most competitive time in beer's history.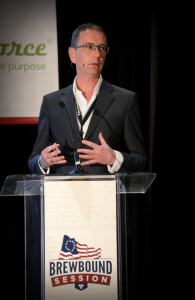 And throughout our conversation, Simon never gave me any reason to believe that he'd be headed out the door two weeks later.
Whether that was his decision or Duvel's, I'm not sure. But I have to believe that the press announcement coinciding with his departure would have highlighted more than just his "strong leadership" after seven years of service if, as the release claimed, the decision to leave were truly "mutual."
So here we are. Simon Thorpe, the guy at least partially responsible for convincing Boulevard Brewing founder John McDonald and Firestone Walker co-founder David Walker to sell their businesses to Duvel Moortgat, is on his way out.
I'm not sure if Simon is sitting at home right now polishing up his resume. But, much like the NBA's Kevin Durant lottery earlier this summer, a big-time free agent creates plenty of interest in realm of Hot Stove speculation.
So here's my list of the top six franchises that might want to consider adding this big-time leader to their lineup, and why:
6.) Artisanal Brewing Ventures
Backed by New York family office Ulysses Management, Artisanal Brewing Ventures is the result of a merger between New York's Southern Tier Brewing and Pennsylvania's Victory Brewing Company. The two companies have a stated strategy of concentrating their sales efforts in the Northeast, even though Victory's footprint touches 37 states and Southern Tier's touches 33. The company technically already has a chief executive in John Coleman, who had been serving as Southern Tier's CEO since 2014 before assuming the same title for ABV, but that doesn't mean Thorpe couldn't come in and help ABV align both breweries' distribution footprints — something he experienced at Duvel following the Boulevard acquisition — or help lead any future acquisition efforts. Prior to joining Duvel in 2009, Thorpe spent time in private equity in Europe focused on luxury goods, and served as the vice president of M&A for InBev. If ABV is eying other acquisitions within craft, Thorpe would certainly be a welcome addition.
5.) Boston Beer Company
As Boston Beer struggles to maintain a dominant position in the craft beer sector amidst competition from over 4,600 small breweries, investors and analysts have, in recent weeks, begun speculating about the company's future moves. Most of the chatter has focused on whether or not Jim Koch should consider either selling the publicly traded craft brewery, taking it private or getting more aggressive with mergers and acquisitions. Company-wide dollar sales are down nearly two percent year-to-date through August 7, according to data from market research firm IRI Worldwide, and the company reported depletion declines of 5 percent in the second quarter. Most of that is concentrated within its Samuel Adams and Angry Orchard brands.
The one area of the Boston Beer Company that is growing, however, is an Alchemy & Science portfolio that includes the Traveler, Coney Island, Angel City and Concrete Beach brands. That division's leader, Alan Newman, is coming to the end of a five-year contract and, at 70 years old, likely won't sign another. Boston Beer has yet to officially confirm that Newman will not return to the organization in 2017, but all signs point to his departure. Not only would Thorpe make a great replacement for Newman, but he could potentially step in and help right the ship on Sam and Angry as well as layout a more formal M&A strategy. It would take a bit of restructuring, but it's not impossible. And we also know from his time with that Duvel that he understands the nuances of managing a portfolio of multiple brands, something that Boston could definitely benefit from.
It also doesn't hurt that Boston recently named former Moet Hennessy executive Jonathan Potter as its new CMO, perhaps indicating a willingness to bring in fresh talent, especially ones with an eye toward luxury positioning.
4.) Enjoy Beer LLC.
Private equity firm Friedman, Fleisher & Lowe (FFL) and Harpoon Brewery co-founder Rich Doyle — who stepped down as CEO of that company in 2014 — established the Enjoy Beer LLC consortium last April in hopes of acquiring five craft breweries by 2020. But with only one craft acquisition under its belt — Abita Brewing — since going public with the concept last year, you've got to wonder how successful Enjoy Beer will be in convincing more brewers to sign on. It's not for a lack of activity, either. Dozens of craft breweries have sold to both strategic and private equity buyers alike since last Enjoy Beer debuted in April.
With the private equity clock ticking, the pressure has certainly got to be on Doyle and his team to get some more deals done. The Enjoy Beer roster already includes former Ninkasi COO Jessica Jones, former New Belgium sales executive Brian "BK" Krueger as well as the Abita and FFL brain trusts on its board. So on paper, both the concept and the team seem poised for success, but even a ridiculously stacked U.S. Men's Basketball team didn't take home gold medals in the 2004 Summer Olympics. Perhaps Thorpe is the missing link?
3.) Stone Brewing Company (and True Craft?)
Perhaps the most obvious brewery in need of a talented CEO such as Thorpe is San Diego's Stone Brewing Company. Since announcing that he would step down as its chief nearly one year ago, Stone Brewing co-founder Greg Koch has yet to name his replacement and the company could certainly use some help. Besides the fact that Brewmaster Mitch Steele just departed the organization, Stone is also working through a number of creative expansion projects — including new breweries in Richmond, VA and Berlin, Germany; a hotel in Escondido, Calif., a taproom in Napa, Calif., and of course True Craft. But the last thing any craft brewery needs is a leader turning his or her attention away from the core business of making and selling beer.
This is where a guy like Thorpe could be a huge addition to a company like Stone. Not only could Thorpe ensure that expansion projects keep humming along, but he'd also be able to do the more traditional day-to-day work of a large craft brewery CEO. And his understanding of the deal environment as well as his ability to get them done certainly wouldn't hurt the True Craft venture that Koch has said he'll launch. It's still unclear how far along Koch is to securing the $100 million he said he needed to get the investment platform off the ground, but I hear Thorpe is pretty good and raising money too.
2.) A large but fast-growing mid-size brewery
Okay, I will fully admit that I'm cheating quite a bit here, but I could honestly envision a number of brands finding a way to convince Thorpe to sign on. Companies in this group would include the likes of Ninkasi, Green Flash, Allagash, or even a smaller operation like Russian River, to name a few. We know that Thorpe has an affinity for well-branded and well-differentiated craft products, particularly those that play at the "top of the pyramid" in terms of pricing. And while not all of the brands mentioned above perfectly fit that description, they are all still growing quickly and could perhaps be in need of an executive like Thorpe who has a deep understanding of what it takes to run a brewery in today's crowded craft climate.
Ninkasi: Having just crossed over the 100,000 barrel mark last year, Ninkasi is likely facing some big decisions on the best ways to continue growing into the future.
Green Flash: As it expands nationwide and opens a secondary production facility in Virginia Beach, Green Flash has turned itself into a much more complicated craft brewery than it ever was before.
Allagash: It's a beautifully constructed high-end brand that, like many craft breweries, will face some tough questions in the coming years as it decides how to grow.
Russian River: It's a brewery adored by beer geeks that struggles to meet demand no matter what it does. The company scaled production and pulled back distribution and is about to embark on a significant expansion. Could Russian River also benefit by adding an executive like Thorpe to run the day-to-day operations while co-founder Vinnie Cilurzo keeps his attention on the creative side of the business?
1.) Constellation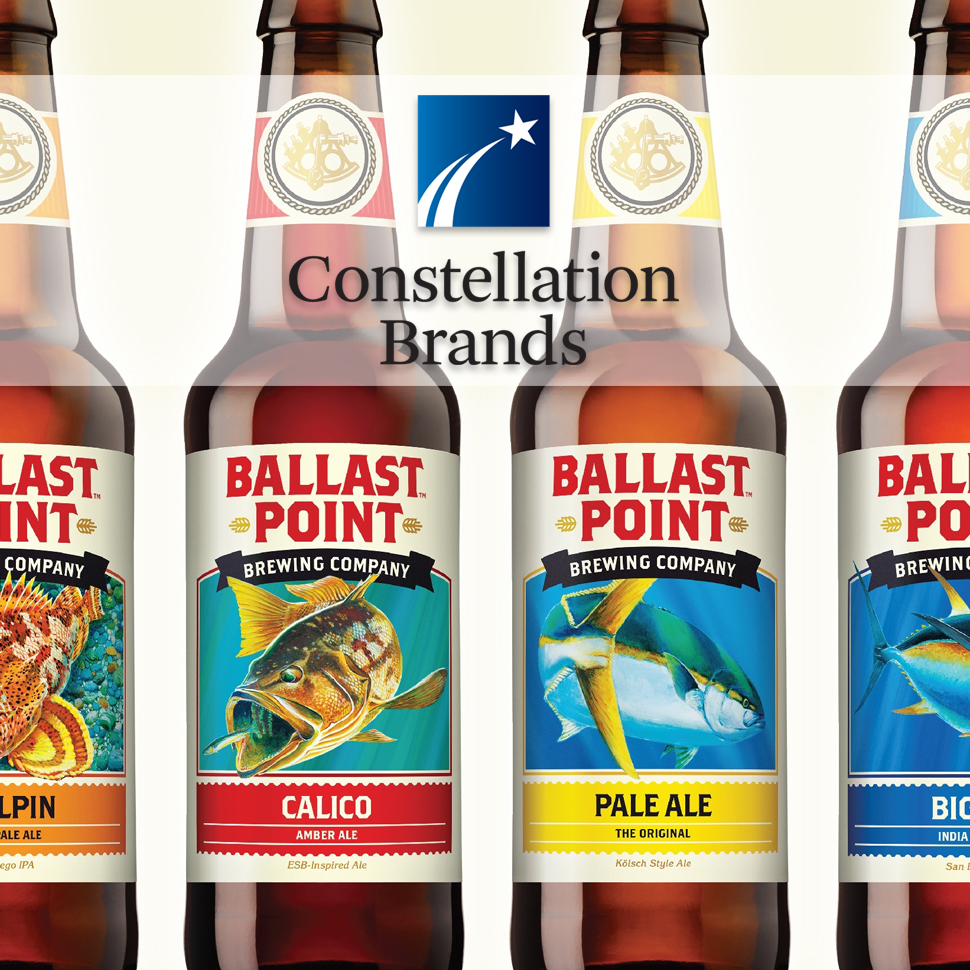 Perhaps the most compelling argument to be made is Constellation, which last year acquired San Diego's Ballast Point Brewing for $1 billion. Unfortunately, nearly all of the key Ballast Point executives exited the company last month, including founder Jack White and brewmaster Yuseff Cherney, who left to start Cutwater Spirits, as well as CEO Jim Buechler and chief commercial officer Earl Kight.
While Constellation Brands president Marty Birkel has assumed the role of president for Ballast Point, it would be somewhat naive to think he could lead both the company's Mexican and craft beer brands to continue double-digit growth without some help. Ballast Point, which Constellation said would "operate as a stand-alone company" when it purchased the brewery last November needs its own dedicated leader. And when you layer in the fact that Constellation might still have an appetite for additional craft acquisitions, the idea of adding Thorpe really starts to make some sense. Not only could he help alleviate some of the pressure Birkel will begin to feel having to manage brands in two totally different segments of the beer market, but Thorpe could also help Constellation become a more formidable competitor in the craft space by assisting with its M&A efforts.