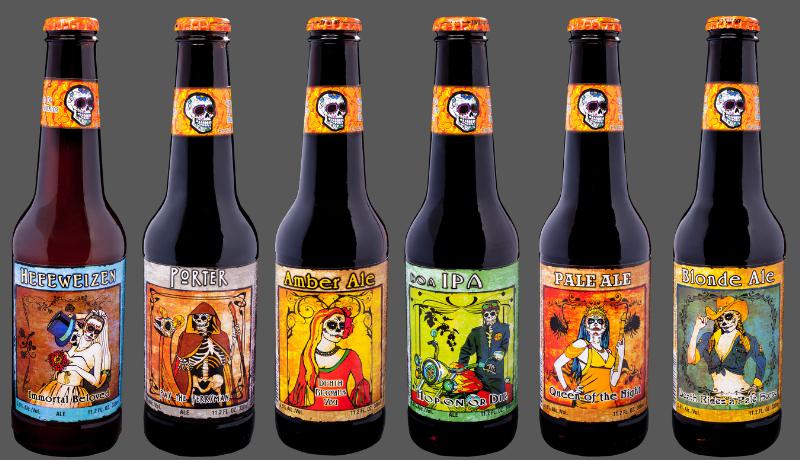 LOS ANGELES, CA — Drinks Americas (OTC: DKAM; "Drinks Americas" or the "Company"), the exclusive United States broker for leading premium authentic Mexican beers currently present in over 32 states, today is proud to announce that in October 2013 it signed with Republic National Distributing Company (RNDC) for the distribution of their authentic premium Mexican Day of the Dead Craft Beer throughout Colorado, a state known for craft brewery.
Known as the nation's second largest beverage alcohol distributor in the U.S., RNDC is recognized for being built on solid foundations of deep-rooted longstanding family owned companies. In 2007 it was formed from the successful merger of the former Republic Beverage Company and National Distributing Company, both wildly successful privately owned liquor wholesalers that boasted complementary qualities. Early predecessors of company trace roots back to it being founded in Pensacola, Florida in 1898 by a single distributor. Currently, employing over 7,000 people, RNDC has fully owned operations nationwide.
Joseph Belli, VP of Sales for Day of Dead Craft Beer says, "We're extremely pleased to be in another of RNDC's growing markets — Colorado. RNDC is carrying all six varieties of Day of the Dead Craft Beer across the state. According to the company, they sold out of their first order during the Halloween season and are currently selling at a rate of roughly 250 cases per month, an impressively solid sales rate. We look forward to upping that number throughout the year."
Scott Klug of RNDC commented on sales of Drinks Americas' premium authentic Mexican craft beer, stating, "Day of the Dead is a fun beer to sell. It is interesting to watch people's reactions when they get the liquid in their mouth. Most people don't associate good beer with Mexico and they are pleasantly surprised at the quality of these beers."
"We are honored to be working with such a historic distributor with loyal customer base, and are thrilled to hear of their warm reception to our brands. The addition of Republic National Distributing Company brings our brand to a trend-setting market worth our continued expansion," added Timothy Owens, CEO of Drinks Americas.
About Drinks Americas Holdings
Drinks Americas (OTC: DKAM) is the exclusive United States broker for leading premium authentic Mexican beers currently present in over 32 states. The Company is on target to be the leading broker for Mexican beers in each state in which it operates. Drinks Americas' leading premium authentic Mexican beer brands include specialty Day of the Dead Craft Beer, Mexicali(TM), Rio Bravo(TM), Red Pig(TM) and Chili Beer(TM), which are all brewed in Mexico's third largest brewery, Cerveceria Mexicana, Mexican family owned, utilizing state of the art processes, fermentation and aging systems. Drinks Americas' brands continue to forge strong connections with consumers through some of the largest retailers and restaurants in the country. The Company is headquartered in Los Angeles, CA and trades under the ticker symbol "DKAM."
Except for the historical information contained herein, the matters set forth in this release, including the description of the company and its product offerings, are forward-looking statements within the meaning of the "safe harbor" provision of the Private Securities Litigation Reform Act of 1995. These forward-looking statements are subject to risks and uncertainties that may cause actual results to differ materially, including the historical volatility and low trading volume of our stock, the risk and uncertainties inherent in the early stages of growth companies, the company's need to raise substantial additional capital to proceed with its business, risks associated with competitors, and other risks detailed from time to time in the company's most recent filings with the Securities and Exchange Commission. These forward-looking statements speak only as of the date hereof. The company disclaims any intent or obligation to update these forward-looking statements.