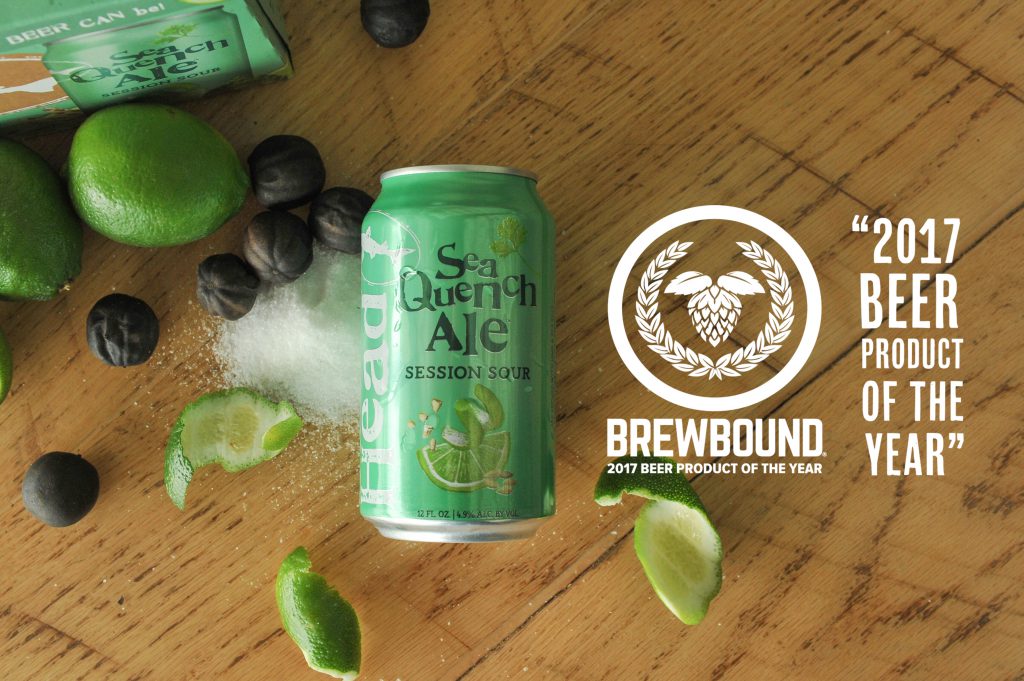 MILTON, Del. – Dogfish Head Craft Brewery is proud to share that SeaQuench Ale is the 2017 winner for the Brewbound "Beer Product of the Year" award. Only one American beer receives this top honor annually.  SeaQuench Ale is a session sour brewed with lime juice, lime peel, black limes and sea salt.  SeaQuench Ale and Dogfish Head were recognized by Brewbound, a leading craft beer media company, for making an exceptional effort in selling and promoting an offering that's both well-differentiated and on the forefront in a sea of craft beer SKUs.
"Dogfish Head's SeaQuench Ale is one of the most uniquely positioned beers on the market today, and the brand's early success is a clear indicator of that," says Chris Furnari, Editor at Brewbound.  "At a time when so many consumers are looking to experience interesting flavors while maintaining a healthier lifestyle, SeaQuench Ale is a product that has the potential to move beyond the core craft beer drinking demographic and into a broader mainstream set."
First launched in 2014, the Brewbound Awards acknowledge breweries for their execution of various sales, marketing, and philanthropic initiatives.Sam Calagione, founder of CEO of Dogfish Head Craft Brewery shares, "for SeaQuench Ale, we set out with two goals. First, to make an intensely approachable and flavorful lower calorie, lower carb, true craft beer.  Second, to objectively design the most thirst-quenching beer Dogfish has ever made. My 300-odd coworkers and I are very pleased we met this objective and now we are super proud that Brewbound has named SeaQuench Ale 'Beer Product of the Year'."
Along with the distinguished Brewbound award, a trio of national media outlets have also raised a glass to SeaQuench Ale celebrating the beer as an industry leading and consumer preferred beverage in the marketplace.
Men's Health named SeaQuench Ale the 2017 Best Low-Calorie Beer and Editors Choice at 140 calories and 9 carbs per 12 ounce serving!  They also claim that SeaQuench Ale "…may be the world's most thirst-slaying beer."
Sports Illustrated says that "SeaQuench Ale has about 10 times the amount of sodium as rival active-lifestyle brands…"
USA Today claims "SeaQuench Ale's use of sea salts not only enhances taste, but also infuses minerals…"
SeaQuench Ale is also setting record sales numbers for Dogfish Head performing as the fastest growing sour beer in 2017 based on total dollar sales (IRI Total Multi Outlet and Convenience, YTD Ending 11/12/17) and is the #3 selling six-pack can released in 2017 (IRI Total US – Multi Outlet + Convenience last 13 weeks ending 10/15/17). Consumers are clearly on board with SeaQuench Ale as data trends indicate sour beer sales are up 80% YTD and session beers (less than 5% ABV) are up 54% YTD.
Dogfish Head credits their collaborative, hand-in-hand alliances with beer distribution partners in the Mid-Atlantic regions who have worked diligently to successfully push portfolios of Dogfish craft beer to market resulting in increased sales. For more information about SeaQuench Ale and Dogfish Head Craft Brewery, visit dogfish.com.
About Dogfish Head
Dogfish Head has proudly been focused on brewing beers with culinary ingredients outside the Reinheitsgebot since the day it opened as the smallest American craft brewery 22 years ago. Dogfish Head has grown into a top-20 craft brewery and has won numerous awards throughout the years including Wine Enthusiast's 2015 Brewery of the Year and theJames Beard Foundation Award for 2017 Outstanding Wine, Spirits, or Beer Professional.    It is a 250+ coworker company based in Delaware withDogfish Head Brewings & Eats, an off-centered brewpub and distillery, Chesapeake & Maine, a geographically enamored seafood restaurant,Dogfish Inn, a beer-themed inn on the harbor and Dogfish Head Craft Brewery, a production brewery and distillery featuring a tasting room and food truck.  Dogfish Head supports the Independent Craft Brewing Seal, the definitive icon for American craft breweries to identify themselves to be independently-owned and carries the torch of transparency, brewing innovation and the freedom of choice originally forged by brewing community pioneers.  Dogfish Head currently sells beer in 37 states and Washington D.C. and will expand into additional states in 2017. For more information, visit www.dogfish.com, Facebook: @dogfishheadbeer, Twitter: @dogfishbeer, and Instagram: dogfishhead.