While many of the country's largest and most established craft breweries struggle to grow sales in 2018, at least one longtime player is bucking category-wide trends.
Delaware's Dogfish Head, which launched in 1995 and was ranked by industry trade group the Brewers Association as the 12th largest U.S. craft brewery in 2017, is on pace to grow about 8 percent this year, brewery co-founder and CEO Sam Calagione told Brewbound.
"We are forecasting to do about 298,000 barrels," Calagione said. "And we're hoping our distributors can give us a strong push and help get us over the 300,000-barrel mark this year."
Year-to-date volume sales of craft beer at off-premise retailers were up 1.7 percent through June 17, according to market research firm IRI Worldwide.
Over the last 52-weeks, however, Dogfish Head has outpaced the broader off-premise craft beer market, growing volume sales more than 20 percent compared to just 3.3 percent for the rest of the industry.
Additionally, 10 of the top 25 craft beer portfolios tracked by IRI — including Boston Beer Company's Samuel Adams brand, and offerings from well-known producers such as New Belgium, Deschutes, Goose Island, Ballast Point and Ninkasi, among others – were in decline during the 13-week period ending June 17. Dogfish Head, however, grew dollar sales 5.6 percent during that same time.
"This has been a pretty challenging year for craft beer," Calagione said. "We are not growing as fast as we did last year – we're cycling the launch of our cans nationally – but we are pretty proud that we're still growing in IRI, especially when we charge $52 per case."
Indeed, Dogfish Head boasts the highest average price per case of any top-25 craft brand, including those now owned by larger entities such as Anheuser-Busch InBev and Constellation Brands.
Nevertheless, the company's average price per case has decreased by $1.37 over the last 52 weeks, which Calagione attributed to the success of lower-ABV and lower-priced beers SeaQuench Ale and Namaste.
SeaQuench, he added, is the "best selling" sour beer in the U.S., and volume sales have increased 134 percent over the last 13 weeks.
"We had the goal, when we designed it, to make the most objectively thirst-quenching beer that Dogfish has ever brewed," he said. "But we also built it around a flavor profile that would appeal to margarita drinkers and white wine drinkers as much as it would appeal to beer geeks, and that is starting to prove itself."
Despite the success, not all of the company's brands are growing, he said. Flagship offering 60-Minute IPA is "about flat," and 90-Minute IPA, another core offering, is "down a few points."
"There are challenges with 20-plus year flagship beers, and growing in this environment is especially difficult for hop-centric flagships," Calagione said. "The market is super crowded, craft beer consumers are promiscuous, and the new, local stuff gets a lot of play."
But instead of dropping the retail price of those beers to drive volume sales, Dogfish has opted to change its package formats. It recently moved 90-Minute IPA in 12 oz. bottles into 6-packs (from 4-packs), and introduced 4-packs of 16 oz. cans. Those adjustments will give consumers "a little better price per ounce," Calagione argued.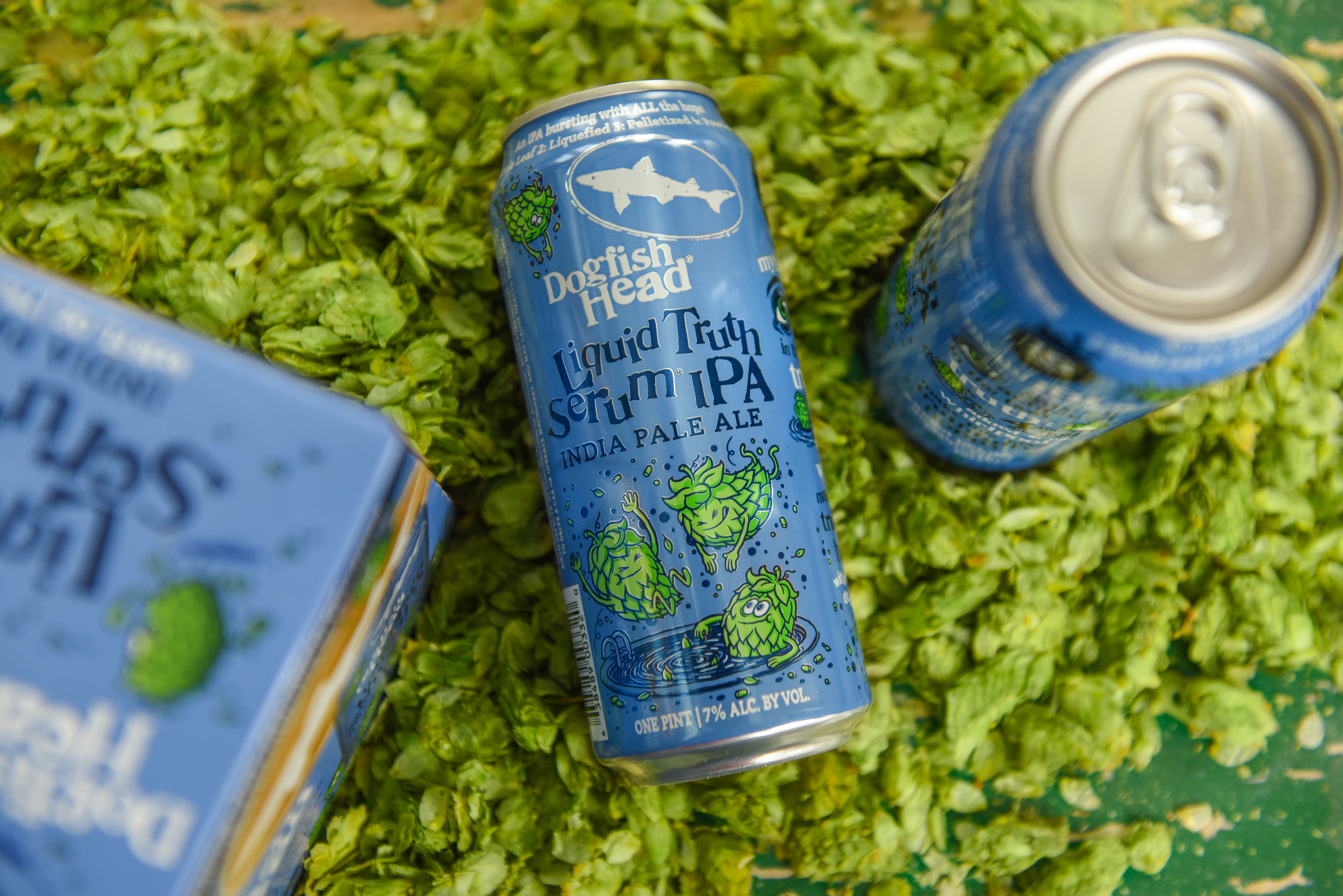 And in an effort to help offset some of the declines to 60-Minute, the company introduced a new year-round IPA, called Liquid Truth Serum, in 4-packs of 16 oz. cans and 6-packs of 12 oz. bottles.
"It is an unfiltered, rustic, juicy and aromatic IPA that should get a lot of love," Calagione said. "That beer has a lot of excitement around it."
All of those moves come as Dogfish has steadily expanded distribution to 42 states and completed a number of expansion projects, including the buildout of its new $4 million brewpub and distillery in Rehoboth Beach, as well as an expanded tasting room and full-service kitchen at its Milton production brewery.
"Our distillery is in double-digit growth mode," Calagione said.
The company's next big investment isn't aimed at expanding capacity or broadening distribution, but rather improving business planning.
"Our newest journey is a multi-million dollar ERP system," Calagione said, noting that the multi-phase project would be implemented over the next couple of years.
"This will help us really dial in the work between brewing, finance, sales, and packaging, so we will be able to build, in real time, brew schedules on real, daily updated sales trends," he added.
The company is also working on changes to its 2019 beer release calendar, the launch of a Mid-Atlantic music and beer festival and possible export and e-commerce opportunities.