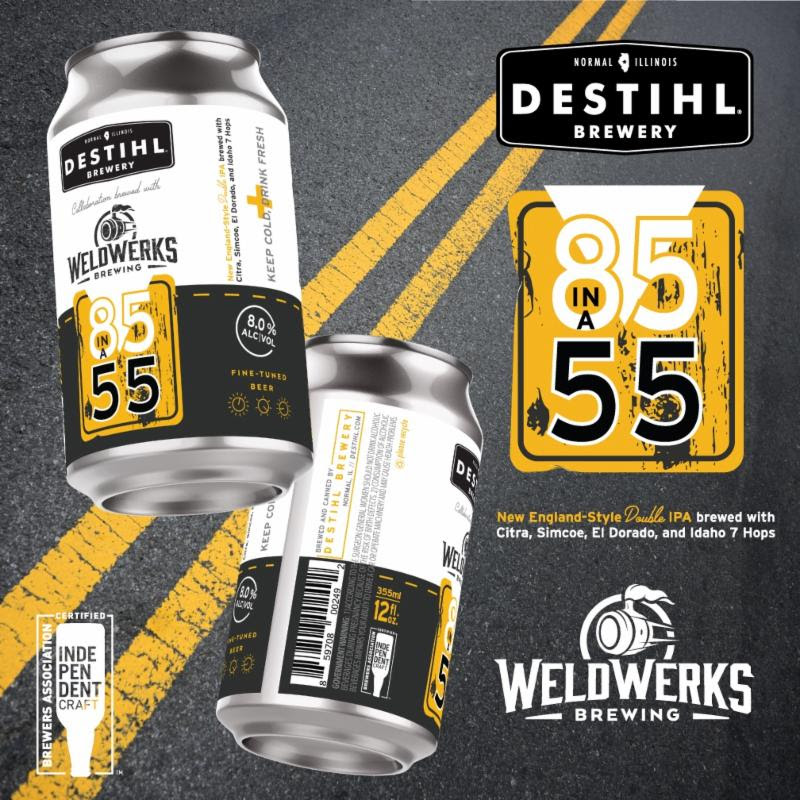 NORMAL, Ill. — DESTIHL Brewery and Greely, Colorado-based Weldwerks Brewing Co. have collaborated on a special release beer to be released at DESTIHL's Field Day Beer Fest on Saturday, June 2. The beer, a New England-style, double IPA brewed with Citra, Simcoe, El Dorado and Idaho 7 hops, dubbed "85 in a 55" is the first collaborative venture between the two breweries. 85 in a 55 refers to the interstate highways each brewery is located near and was initially brewed by DESTIHL CEO, Brewmaster & Founder, Matt Potts, and WeldWerks' Head Brewer and Owner, Neil Fischer, in early 2018 at WeldWerks Brewing Co. and was sold exclusively at the Greeley, Colorado brewery. The most recent batch was brewed at DESTIHL Brewery in Normal, Illinois.
85 in a 55 is a pale straw colored, hazy New England-style Double IPA featuring a fruity, resinous hop aroma. Subtle hop bitterness on the palate is balanced by sweet flavors of juicy pineapple and orange with a moderately dry finish. The beer comes in at 8.0% ABV and 92 IBU.
85 in a 55 will be available on tap and in 4-pack, 12 oz. cans at the DESTIHL Beer Hall beginning on June 2. Also look for the collaboration at the WeldWerks Invitational beer festival in Greeley on June 23. Distribution in Illinois and Colorado will begin later in June.
About DESTIHL Brewery
DESTIHL opened its first gastrobrewpub (DESTIHL Restaurant & Brew Works) in Normal, Illinois, in November 2007 and added its second gastrobrewpub in downtown Champaign, Illinois, in April 2011, where the company focuses on both artisan food and beers. The company's original production brewery in Bloomington, IL commenced operations on May 31, 2013, but production was moved to its new facility in Normal, IL in March 2017. DESTIHL Brewery combines centuries-old, global brewing traditions and new American craft brewing ingenuity & artisanship to produce a wide array of beers for every palate, resulting in a diverse offering of intensely flavorful beers that are anything but bland. DESTIHL has earned gold medals, 2015 Best in Show and 2016 Runner-Up Best in Show at the Festival of Wood & Barrel-Aged Beer competition (FoBAB) for Dosvidanya and a bronze medal for that beer in the Wood and Barrel-Aged Strong Stout category at the 2015 Great American Beer Festival, as well as GABF medals for its Saint Dekkera Reserve Framboise and Strawberry Blonde Ale. The brewery currently distributes its beers in 22 states, including Arizona, Arkansas, Colorado, Florida, Illinois, Indiana, Iowa, Kansas, Louisiana, Massachusetts, Michigan, Minnesota, Missouri, Nebraska, New York, North Carolina, Ohio, Oklahoma, Pennsylvania, Tennessee, Texas and Wisconsin.
About WeldWerks Brewing Co.
WeldWerks Brewing Co., Greeley, CO, in their first three years of operation has earned a gold medal victory at the 2017 Great American Beer Festival, in the Wood and Barrel-Aged Strong Stout category for Medianoche, and a silver medal for their Hefeweizen in the American Style Wheat Beer with Yeast category at both GABF and the US Open Beer Championship in 2015, and a bronze for Puesta del Sol, their Vienna-style Lager at the 2016 World Beer Cup. They were named USA Today's Best New Brewery in a 2016 10Best Reader's Poll.