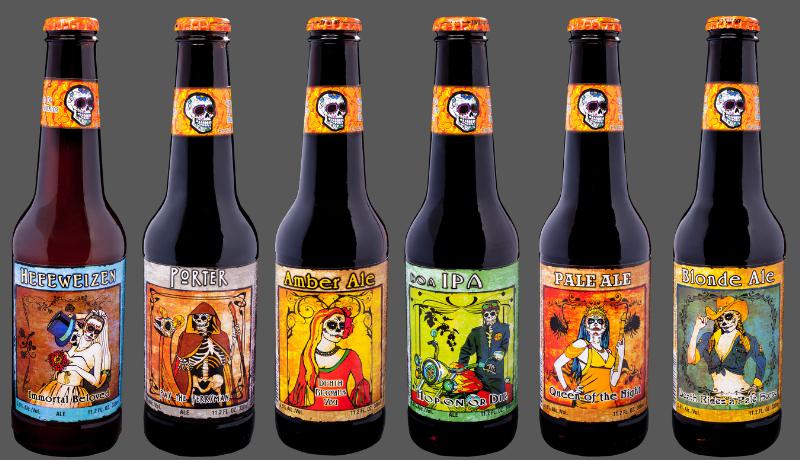 LOS ANGELES, CA — Drinks Americas DKAM -7.89% , the exclusive United States broker for leading premium authentic Mexican beers currently present in over 32 states, today is proud to announce that its entire line of authentic Day of the Dead craft beer has landed on the shelves of Binny's Beverage Depot retail locations throughout Chicago.
Known as the Midwest's largest Wine & Spirits, Beer & Cigar superstore, Binny's Beverage Depot carries approximately 1,500 sku's of beer brands in its retail locations and offers online ordering of fine wine, spirits, beer and beverages, cigars, and specialty gifts with local pickup. Binny's is proudly partnered with one of the oldest and most prestigious beer distributors in the United States and winner of the 2012 and 2013 Distributor of the Year by Beverage World Magazine – Louis Glunz Beer, Inc.
Eric Kobus, Brand Manager, Glunz Beer, commented, "Chicagoans are just as excited as we are here at Glunz about the introduction of Drinks America's Day of the Dead beers, which have been flying off the shelves at Binny's," said Eric Kobus, craft and specialty import brands manager for Louis Glunz Beer, Inc. "With craft brewing in the U.S. at an all-time high, it's great to see Mexico getting into the game and establishing a craft beer scene based on traditional brewing and authentic flavors, like those of Day of the Dead."
Timothy Owens, CEO of Drinks Americas, added, "We are pleased to be working with Binny's – a highly respected wine, spirits and beer retailer that comes with not only a large market following, but also a distribution partner of the highest caliber – Louis Glunz Beer, Inc. This collaboration will undoubtedly be beneficial to both Binny's eclectic and versatile customer base throughout Chicago, and our brand and revenue growth moving forward."
About Drinks Americas Holdings
Drinks Americas DKAM -7.89% is the exclusive United States broker for leading premium authentic Mexican beers currently present in over 32 states. The Company is on target to be the leading broker for Mexican beers in each state in which it operates. Drinks Americas' leading premium authentic Mexican beer brands include specialty Day of the Dead Craft Beer, Mexicali(TM), Rio Bravo(TM), Red Pig(TM) and Chili Beer(TM), which are all brewed in Mexico's third largest brewery, Cerveceria Mexicana, utilizing state of the art processes, fermentation and aging systems. Drinks Americas' brands continue to forge strong connections with consumers through some of the largest retailers and restaurants in the country. The Company is headquartered in Los Angeles, CA and trades under the ticker symbol "DKAM."
Except for the historical information contained herein, the matters set forth in this release, including the description of the company and its product offerings, are forward-looking statements within the meaning of the "safe harbor" provision of the Private Securities Litigation Reform Act of 1995. These forward-looking statements are subject to risks and uncertainties that may cause actual results to differ materially, including the historical volatility and low trading volume of our stock, the risk and uncertainties inherent in the early stages of growth companies, the company's need to raise substantial additional capital to proceed with its business, risks associated with competitors, and other risks detailed from time to time in the company's most recent filings with the Securities and Exchange Commission. These forward-looking statements speak only as of the date hereof. The company disclaims any intent or obligation to update these forward-looking statements.